This is an archived article and the information in the article may be outdated. Please look at the time stamp on the story to see when it was last updated.
DENVER – Wind gusts in excess of 50 miles an hour were reported across Colorado's Front Range Monday afternoon, kicking up dust and exacerbating already dangerous fire conditions.
A RED FLAG WARNING remains in effect for all of eastern Colorado for the remainder of the day.
Any wildfires that start basically get out of control very quickly.  That's why the Forest Service has air tankers ready to go at Rocky Mountain Airport in Broomfield.  Once this weather disturbance moves east tonight, the winds will die down.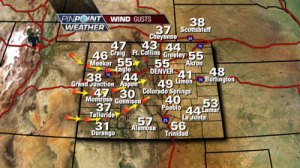 Where are these winds coming from?  To answer that we have to look at the winds in the air above us, at about mountain top level.  There's a weather disturbance in the upper atmosphere that has particularly strong winds with it.
The first part of the weather disturbance brought clouds to the state, but those clouds have headed east.  Behind them come the winds, and these winds are coming out of the west.  We know westerly winds to be very dry and warm as they blow across the plains.  Warm dry air blows away any kind of moisture the ground may hold, so there's very little grass to hold the topsoil down.  The topsoil blows away and makes the skies hazy and dusty, and that dust can cause trouble for people with breathing problems.
The forecast shows lighter winds for the rest of the week, but warm temperatures and very dry conditions will continue.
Unless somehow we get some kind of rain and snow within the next 5 days, we can also safely say that this March will go down in history as the driest in Denver History.