This is an archived article and the information in the article may be outdated. Please look at the time stamp on the story to see when it was last updated.
DENVER — A storm system will bring some much-needed snow to the Front Range this weekend.
The Pinpoint Weather team is tracking the storm and continuing to determine the exact timing and how much snow it will leave behind.
But one thing is for sure, by Sunday morning the mountains and most of the Front Range will have snow falling.
Although it's still a few days out and the forecast can still change, here's what we know about the storm as of Wednesday morning.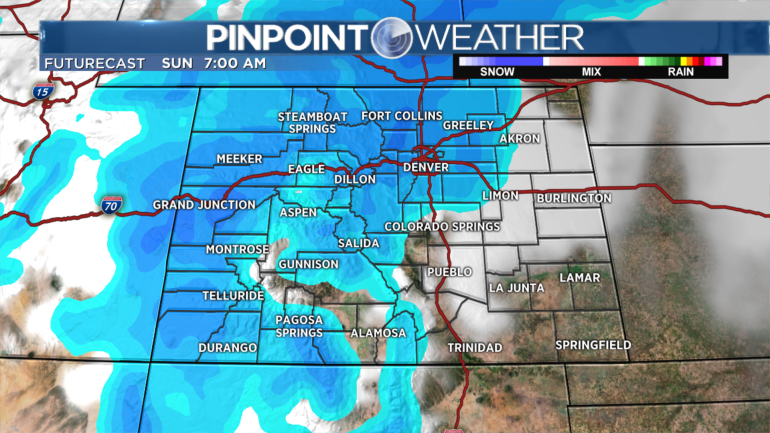 Timing
The snow will move into the mountains starting midday on Saturday and will move into Denver overnight Saturday through Sunday. Denver snow ends Sunday afternoon.
The biggest impact from this storm in Denver will be on Sunday.
Possible totals
It is still a few days out and totals could change over the next few days as the storm gets closer.
As of Wednesday morning, the forecast for ski areas call for 6-12 inches of fresh powder on Saturday and Sunday.  In the Denver metro area, there could be 1-5 inches of accumulation by Sunday afternoon.
The totals are subject to change.
Temperatures 
Another factor will be the temperature drop. However, the biggest impacts with the temperatures will come after the snow moves out.
Temperatures take a nose-dive on Sunday to 9 degrees by midnight. That could mean icy roads for the Monday morning rush hour.
It will be drier on Monday with highs warming up to the upper 30s.