This is an archived article and the information in the article may be outdated. Please look at the time stamp on the story to see when it was last updated.
DENVER — There are changes coming during the weekend with chances of snow and cooler temperatures for some areas, the city relatively unaffected.
Friday will be another warmer than average day with clouds increasing, particularly in the high country where some areas of snowfall will develop throughout the day.
Denver's cloud cover will not impact a warm afternoon of temperatures in the 50s.
For the metro area, the clouds will continue to increase Saturday but again plan on temperatures in the 50s.
A few areas of snow will be possible later Saturday through Sunday, although most areas will not have any.
On Sunday, temperatures in Denver will cool into the 40s. This cool down is the biggest impact of the incoming system.
Meanwhile, the mountains will have some snow starting Friday when temperatures will be in the 30s.
On Saturday and Sunday, areas of snowfall might continue with temperatures still running in the 30s. For the most part, there will be a very minor cool down.
At least there will be snowfall, with 2-6 inches across many mountain ranges from Friday through Sunday afternoon.
If snow does materialize around the metro areas it will be more likely between Denver and Colorado Springs over the Palmer Ridge.
This area will have a minor amount, but even minor amounts can give the roads icing issues.
Travel conditions will be possibly impacted in the snow areas described. Travelers on Interstate 70 between Evergreen and Vail Pass should be ready for winter driving conditions.
Check interactive radar and zoom in to where you are. Plus, check the radar anytime with the Pinpoint Weather App for iPhone and Android.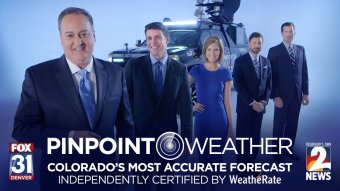 Pinpoint Weather has been independently certified as Colorado's Most Accurate Forecast by WeatheRate.
We're tracking weather today on FOX31 Denver and Channel 2 News — and when conditions are bad we send out the Weather Beast.