This is an archived article and the information in the article may be outdated. Please look at the time stamp on the story to see when it was last updated.
DENVER -- It will be another abnormally warm day on Friday with highs reaching 66 degrees in Denver, Boulder and Fort Collins.
There will be a lot of wave clouds that will limit sunshine. The record high is 68 degrees set in 1986
Denver tied a 98-year-old record high on Thursday after reaching 65 degrees at Denver International Airport.
A storm system continues to move slowly toward Colorado. That means Saturday will be mostly dry in Denver, Boulder and Fort Collins.
Snow doesn't arrive until midnight or later Sunday morning.
The mountains will warm into the 30s, 40s and even some 50s on Friday.
It will be windy above treeline and on the higher eastern slopes at 20-35 mph. There could be 50 mph gusts with some areas of blowing snow.
Snow hits the mountains slowly on Saturday. The bulk of the snow doesn't arrive until midday and Saturday afternoon. It initially might mix with rain in the valleys.
Snow is likely on Sunday in the mountains, in Denver and up and down the Front Range before tapering off Sunday afternoon into the evening.
Total snow accumulation by Sunday night:
Denver: 3-6 inches
Boulder: 6 inches
Fort Collins: 3-6 inches
Eastern Plains: 3-5 inches
Palmer Divide: 3-7 inches
Foothills: 4-8 inches
Ski areas: 6-14 inches
Southern mountains: 10-20 inches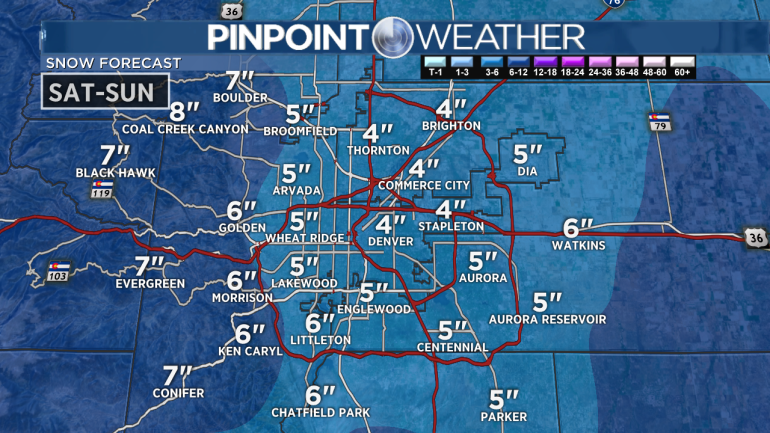 Temperatures on Sunday take a nose-dive with early highs around 30 then falling into the teens by the afternoon.
Overnight lows hit 10 by Monday morning, with icy roads likely for the morning rush hour.
It will be dry on Tuesday.