This is an archived article and the information in the article may be outdated. Please look at the time stamp on the story to see when it was last updated.
DENVER -- It will be a classic warm before the storm in Denver on Thursday with sunshine and near-record high temperatures.
Temperatures will surge into the low to mid-70s in the afternoon. The record high for Denver on Thursday is 80 degrees, set last year.
Winds will kick up late in the day and clouds will increase after sunset ahead of a storm that is expected to bring light snow to the metro area.
The storm system arrives in the high country late Thursday, with snow beginning during the overnight hours into Friday morning.
It is expected to snow all day Friday in the mountains. It will be windy and roads will turn slick, making for hazardous driving conditions.
Accumulations will range from 4-6 inches in some valley locations with as much as 12-18 inches over the higher terrain.
A winter weather advisory will be in effect for the San Juan Mountains in southwest Colorado until 5 a.m. Saturday.
A winter storm warning will be in effect for the central and northern mountains, including Gunnison, Aspen and Steamboat Springs, until 5 a.m. Saturday.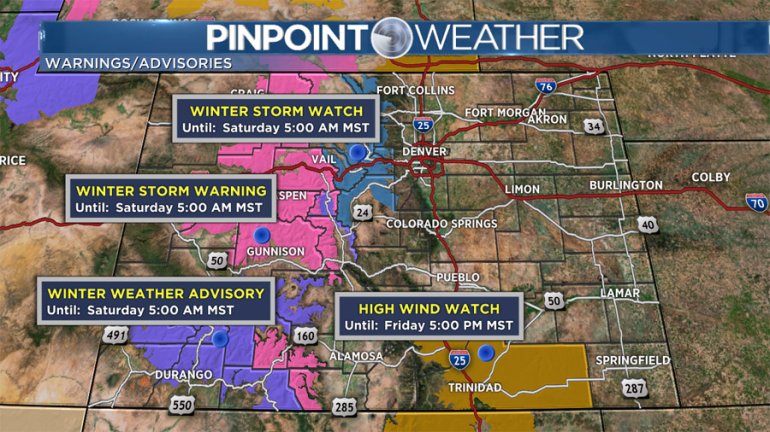 And a winter storm watch is in effect for some central and northern mountain locations, including Vail, until 5 a.m. Saturday.
There will be sunshine to start Friday in the Denver metro area with temperatures quickly rising to the low 60s.
The storm arrives late in the afternoon with more clouds and falling temperatures.
The storm initially will bring rain showers for Denver and the Front Range that will slowly change to a rain/snow mix then end as wet snow on Friday night.
There is not expected to be much accumulation in Denver, but higher elevations in the foothills west of the city and across the Palmer Divide can expect a light accumulation of less than an inch on grassy areas.
The storm will move out Saturday and sunshine returns, but highs will only reach the upper 40s to close to 50 degrees in the metro area.
It will be dry and mostly sunny from Sunday through Wednesday with seasonal highs in the mid-50s.
Pinpoint Weather App:  iPhone / Android