This is an archived article and the information in the article may be outdated. Please look at the time stamp on the story to see when it was last updated.
DENVER -- A line of powerful thunderstorms dumped sheets of rain on the city Friday night that caused flash flooding on some streets and brought reports of people needing rescuing from their cars.
There was intense lightning and strong winds, and several reports of large tree branches down.
Denver police advised against travel.
Alert: #DPD severe weather is causing flooding of streets in areas of the city as well as trees falling down. Avoid travel if possible !!

— Denver Police Dept. (@DenverPolice) June 6, 2015
Alert: #DPD Colorado Blvd closed at E. Exposition Ave due to water on road.

— Denver Police Dept. (@DenverPolice) June 6, 2015
LONG WAIT TIMES for Denver Communications Ctr due to extreme call volume. Related to power outage, flooding, etc.

— Denver Police Dept. (@DenverPolice) June 6, 2015
Part of a roof was blown off of an apartment building in Denver at 870 S. Birch St. near near Interstate 25 and Colorado Boulevard.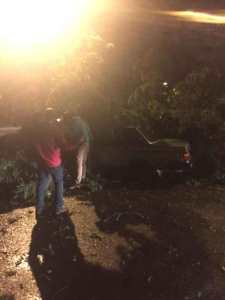 A large tree fell onto a car at East Seventh Avenue and Monaco Parkway. There were pockets of power outages across the city, including places like Leetsdale and Alameda where the traffic lights were out at the busy intersection.
Severe storms developed south and east of Denver on Friday afternoon that forced the National Weather Service to issue tornado warnings.
While there were a couple of reports of a brief touchdown, no damage was reported. The severe storms brought substantial hail and heavy rain, just as the dangerous storms that hit the region Thursday.
Heavy rain in Lakewood on Friday afternoon had an impact on a large trash can. Joe Schallmoser sent us the video from his neighborhood in Green Mountain.