This is an archived article and the information in the article may be outdated. Please look at the time stamp on the story to see when it was last updated.
DENVER — The National Weather Service issued a Tornado Warning for the counties of Adams, Arapahoe and Denver after a wall cloud was spotted just southwest of central Denver Thursday afternoon.
The wall cloud formed over Colorado Boulevard and E. Alameda Avenue at 2:45 p.m. in Denver.  Residents in those areas were told to seek shelter.
The NWS Tornado Warning ended around 3 p.m.
The storm moved east and dropped quater-sized hail.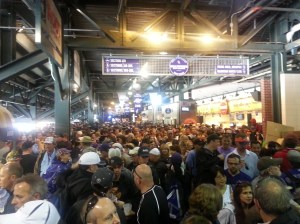 Fans at Coors Field watching the Colorado Rockies were told to go into the concourse area after the NWS warning.
The game was delayed while the storm passed. The game was eventually delayed a second time and then suspended in the bottom of the 6th inning with the Rockies and San Francisco Giants tied 2-2. The game will resume when the Giants return to Denver September 1-3.
Denver Public Schools said buses were running up to 20 minutes late because of the storms.
A third round of thunderstorms moved through the metro area Thursday bringing rain, hail and more threats for tornadoes. Those did not develop, but heavy rain brought flooding to already saturated areas in Commerce City and in places like northbound Monaco Parkway between 35th and 42nd avenues. Denver Police closed that stretch of road Thursday evening.
Chief Meteorologist Dave Fraser says we're transitioning from severe storms to slow-moving storms for Friday that will bring an even higher threat of flooding to the region as they're forecast to dump heavy rain.
LINK: Follow the storms with Interactive Radar
Tornado knocks down trees in Red Feather Lakes
The National Weather Service issued a Tornado Warning for parts of Larimer County by Red Feather Lakes at 2 p.m.
The Larimer County Sheriff's Office said about 100 trees were knocked over and a golf cart was moved at the Bellaire Lake Campground.
Campers were evacuated from the area, deputies said.
The U.S. Forest service decided to close the campground, which is about 30 miles west of Fort Collins, so it could be inspected.
The closure included the Molly Lake Trailhead and campsites along the Manhattan Road.
Despite the severe weather in the forecast, Thursday's storms were not expected to be as intense as Wednesday's, which saw seven tornadoes touch down east of Denver International Airport and quarter-sized hail cover Commerce City north of Denver.
LINK: Severe Weather Alerts from the NWS