This is an archived article and the information in the article may be outdated. Please look at the time stamp on the story to see when it was last updated.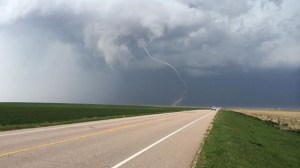 DENVER -- Severe weather season started in Colorado Wednesday afternoon as a series of storms dropped rain, hail and at least two reports of tornadoes.
It continued Wednesday night as a severe thunderstorm warning was issued for Denver, Adams, Boulder and Jefferson counties.
The threat of severe weather was expected to continue late into the night with rain, lightning, hail and gusty winds possible. Temperatures overnight were expected in the upper 30s.
Rain could impact the Thursday morning commute and folks in the Front Range Foothills could be dealing with some snow.
Afternoon tornadoes
The National Weather Service reported a tornado was on the ground at 3:26 p.m. east of Platteville in SW Weld County.
The tornado was on the ground for about eight minutes before it dissipated.
Another tornado was spotted by FOX31 Denver weather tracker Daryl Orr southeast of Akron in Washington County. The tornado was skipping and moving towards the east.
Tornado warning issued until 400 pm for Tornado reported on the ground near La Salle moving northeast at 20 mph.

— NWS Boulder (@NWSBoulder) May 7, 2014
Earlier in the afternoon, NWS radar indicated two tornadoes in rural areas along the Weld County along the Colorado/Wyoming border.
The tornado warnings lasted only a few minutes and no tornado was spotted.
A series of storms were moving northeast from the foothills to the plains, dropping hail and rain. Some of the hail was  reported to be quarter-size in diameter. The Larimer County Sheriff's Office said rain and hail were falling for a period of time Wednesday afternoon from Wellington to Fort Collins to Loveland.
The National Weather Service issued several Severe Thunderstorm Warnings.
LINK: Follow the warnings for your area here
Light to medium size hail now falling in #wellington #cowx @KDVR pic.twitter.com/6GyISPK02V

— Mark Meredith (@markpmeredith) May 7, 2014
At least marble-sized hail at @ColoradoStateU right now. #COwx pic.twitter.com/lRNGtSudlv

— Nik Olsen (@FortNik) May 7, 2014
first hail of the year! #COwx pic.twitter.com/iPnOC5oeuH

— Michel (@MichelTapia) May 7, 2014