This is an archived article and the information in the article may be outdated. Please look at the time stamp on the story to see when it was last updated.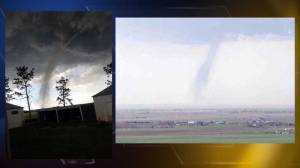 DENVER -- Tornado Warnings were issued for parts of eastern Colorado, both to the north and south, during a third day of turbulent weather in the state.
At one point around 3:30 p.m., there were six different Tornado Warnings in areas from Weld to Morgan and Adams counties down south to Las Animas county.
The Weld County Sheriff's Office said a tornado was spotted near Grover, Colo., at 1:50 p.m. in northeastern Weld County.
The tornado lasted for several minutes, but did not cause any damage, said spokesman Roy Rudisill.
A second tornado was seen at 2:30 about six miles southeast of Roggen, Colo.
SkyFOX followed the twister for several minutes until it dissipated.
Rudisill said at least one structure near Roggen was damaged with broken windows and damage to the roof of a storage shed.
LINK: Watches and Warnings
Deputies also reported that some power lines are down and trees are uprooted in the area of WCR 79 and WCR 16.
No injuries have been reported.
The storms moved slowly to the east dropping rain and quarter-size hail in some areas.  A Flood Warning was issued in Sedgwick County in the northeastern corner of Colorado where 6"+ of rain fell Friday afternoon.
Viewers help tell the story of the tornado outbreak
Slideshow: Send us your weather photos
Photo of tornado from @lennythewelder in Grover, Colo. "Tornado in the oil patch." http://t.co/MuBGelM0WH

— Pinpoint Weather (@PinpointWX) June 6, 2014
Trinidad tornado
A tornado was spotted in southern Colorado near the town of Trinidad.
A tornado was confirmed to be on the ground 10 miles east of Trinidad at 2:10 p.m., reported KRDO-TV.
KRDO viewer Judy Figgins shared this picture of a tornado that touched down in Las Animas County today. #cowx pic.twitter.com/w0RRuO0ExX

— KRDO NewsChannel 13 (@KRDONC13) June 6, 2014