This is an archived article and the information in the article may be outdated. Please look at the time stamp on the story to see when it was last updated.
DENVER -- A third consecutive day of severe weather is expected across the Denver metro area Thursday, one day after heavy rain, hail and tornadoes ravaged the area.
Storms began developing about noon in the southern part of the state, where a severe thunderstorm watch went up for southeast Colorado until 7 p.m.
Storms are moving north along the I-25 corridor and they could hit the Denver metro area from 2 p.m. to 5 p.m., with hail up to an inch in diameter, gusty winds and small tornadoes possible.
LINK: Follow storms with Interactive Radar
Most of the storms should be east of the Denver metro area by 5 p.m., but there could be some showers and storms overnight and more severe storms Friday.
This after the metro area tries to recover after Wednesday's crushing storms.
LINK: Viewer photos of severe weather
In Green Valley Ranch, shocked residents didn't think hail could do so much damage.
"Kind of appalling to come home to. 'Oh my God,' that's what I said when I go home," one resident said.
Residents came home to see hail had pummeled their homes. It splintered siding and left huge holes in fences.
"The winds can be high out here," Lisa Robinson said. "Tornadoes have never touched down, but this is the first time. This is shocking."
In Thornton, a family was waiting out the storm in the basement when lightning struck their house.
"We were down there about five minutes and we just heard an enormous explosion," one said. "Debris had flown across the living room and the far side walls. It looked like a bomb had hit the side of the house."
LINK: Severe weather alerts
In Aurora, Stephanie Rittenhouse was home when a tree fell on her roof. Thanks to the tree's roots though, her house somehow didn't suffer much damage.
"It was probably one of the scariest experiences I've ever had," she said. "We are so lucky. It's just amazing."
In Commerce City, parts Fairfax Park are completely underwater. Dick's Sporting Goods Park got pelted with hail and high school soccer games had to be postponed as crews had to bring out the snow gear -- plows and shovels -- to clear off the field.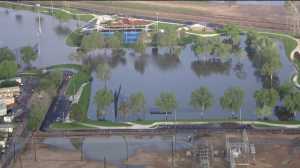 Flooding in the park might be an inconvenience but it's not a major concern. But there is water on the roads in Commerce City and several roads are closed.
Send us your weather photos to tips@kdvr.com or upload them here.