This is an archived article and the information in the article may be outdated. Please look at the time stamp on the story to see when it was last updated.
DENVER — Since 1950, El Niño conditions have been documented 24 times.  Most of those patterns were considered "weak,"  which means the waters of the Pacific Ocean were warm but not too far above average.
Only three times in the past 66 years have "strong" El Niño conditions been observed.  One of those three instances is the El Niño pattern we are currently witnessing.
In fact, it has become one of the strongest on record and has been deemed by some as the "Godzilla El Niño."
How has this latest round of super warm sea surface temperatures in the Pacific affected weather in Colorado?  Let's take a look.
Impact on drought
The waters of the Pacific were either in a neutral or La Niña stage for the majority of the four-year period spanning from the summer of 2010 to the summer of 2014.  
During this time, parts of Colorado slipped into a drought.  This was especially true across southern Colorado. By July 2014, most communities in southeast Colorado were in severe or extreme drought.
Right around that time, Pacific waters started warming up, as the beginning stages of the latest El Niño pattern were taking shape.  
Over the next 18 months, the warming trend continued, and just as we typically see during an El Niño pattern, the jet stream shifted south. As a result, this pushed more moisture over southern Colorado that eventually led to hearty amounts of rain and snow across southern parts of the state.  
Today, most of Colorado is considered drought-free.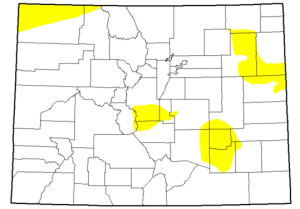 Snowfall
The beginning of the 2015-16 snow season has been generous to the mountainous areas of Colorado.  Ski resorts and snow lovers around the state certainly have been happy with this year's abundance of snow, though some parts of the state are smiling bigger than others.  
Those smiles are coming from — you guessed it — southwest Colorado.  Just as is typically seen through an El Niño winter, the mountains in the southwest corner of the state have been blessed with the most snowfall so far this season.
The statewide average snowpack is 112 percent compared to the average snowpack to date.  Meanwhile, the mountains around the San Miguel, Dolores, Animas and San Juan river basins — all in southwest Colorado — have 122 percent compared to average snowpack to date.  
Extra
We have decided to add a third part to the El Niño series.  The topic will revolve around El Niño forecasts and what that might mean to Colorado weather as we go through the rest of 2016.