This is an archived article and the information in the article may be outdated. Please look at the time stamp on the story to see when it was last updated.
DENVER -- Snow developed just after 10 a.m. Friday in the Denver metro area after falling in Fort Collins, Greeley and northeast Colorado earlier in the day.
The snow is expected to continue through lunch and into the afternoon before tapering off in the evening.
There will be 0-3 inches of accumulation across the Front Range.
With the snow comes colder temperatures that will fall through the 30s in the afternoon and into the 20s by 4 p.m.
It will be cold and wet for the Rockies' home opener against the Atlanta Braves. First pitch is scheduled for 2:10 p.m., but the game likely be delayed.
It's possible the game can start about 6 p.m. to 8 p.m., but temperatures will be in the 20s.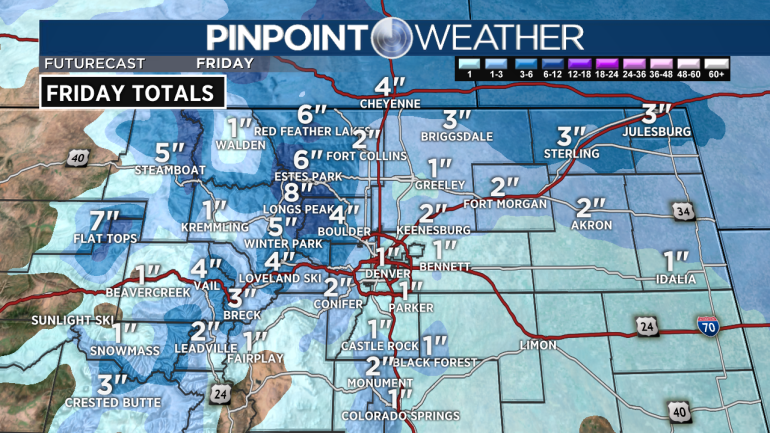 The mountains can expect 3-8 inches of total snowfall. The biggest totals will be above 9,000 feet.
Residual light snow will continue in the mountains on Saturday. a much heavier slug of snow moves in Saturday evening into Sunday morning.
This moisture could generate 12 inches of accumulation above 9,000 feet.
The Pineapple Express sends chunks of moisture into Colorado on Saturday and Sunday. That means rain showers are possible both days with highs in the upper 50s.
A stray shower is possible on Monday. Then it's off to the races with high temperatures approaching 80 degrees.
Check interactive radar and zoom in to where you are. Plus, check the radar anytime with the Pinpoint Weather App for iPhone and Android.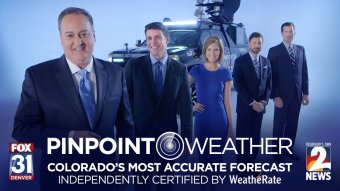 Pinpoint Weather has been independently certified as Colorado's Most Accurate Forecast by WeatheRate.
We're tracking weather today on FOX31 Denver and Channel 2 News -- and when conditions are bad we send out the Weather Beast.