This is an archived article and the information in the article may be outdated. Please look at the time stamp on the story to see when it was last updated.
DENVER — A strong late-season winter storm is poised to bring rain and snow to Denver and along the Front Range.
The cold front will move into the state on Friday with rain showers developing after the lunch hour before changing to snow during the evening rush across Denver, Boulder and Fort Collins.
Rain could change snow sooner in areas south of the city at higher elevations across the Palmer Divide, including Castle Rock, Sedalia, Parker and Monument.
Snow will continue into Saturday morning before tapering off midday followed by a lot of melting.
Denver could get 1-4 inches of wet, slushy snow, with 4-10 inches possible to the south and west of the city in the higher elevations. There will be less snow in northern and northeastern Colorado.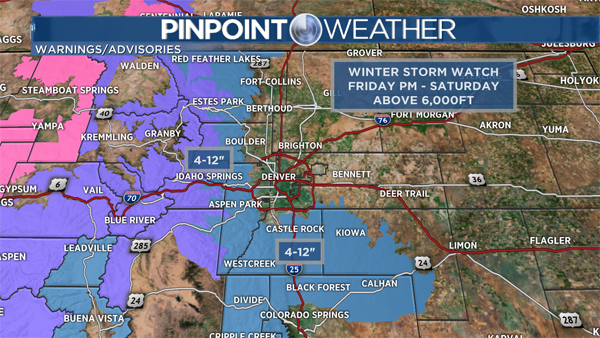 A winter storm watch will go into effect Friday night into Saturday for the foothills above 6,000 feet and south along the Palmer Divide.
The weekend won't be a complete waste with drier and warmer conditions and highs in the mid-50s on Sunday.
Pinpoint Weather App: Interactive radar on your phone:
Download it now: iPhone / Android