This is an archived article and the information in the article may be outdated. Please look at the time stamp on the story to see when it was last updated.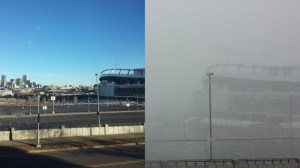 DENVER — Temperatures were expected to drop into the teens Tuesday night into Wednesday morning and roads that were wet from afternoon snow could turn icy in metro Denver.
Snow and strong wind arrived in city by midday Tuesday. Conditions were very cold and wet for anyone who had to go outside, a far cry from the 70s of just a couple of days ago.
Wet slushy snow was expected for the evening commute, with 1 to 2 inches expected in Denver and 3-4 inches in the foothills.
LINK: Follow the storm with Interactive Radar
The morning started with sunshine before clouds moved in. A cold front slid down the Eastern Plains of Colorado and through the Denver area around noon, with temperatures dropping from a high near 50 to about 34 for the evening commute.
The snow should end by 10 p.m.
Sunshine should return Wednesday with high around 50. But more snow could hit the Front Range on Saturday.