This is an archived article and the information in the article may be outdated. Please look at the time stamp on the story to see when it was last updated.
DENVER -- The forecast of more heavy rain Thursday night into Friday have homeowners on edge in the Denver metro area. Heavy rains for the past few weeks has caused the ground to become over-saturated, causing basements to flood.
Dr. Keith Wells of Aurora has been dealing with water seeping into his basement for the past few days.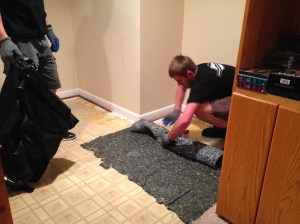 "We thought we could handle it," Wells told FOX31 Denver. "We kept mopping and mopping," he said. At first it started as a trickle of water, but eventually it turned into a flowing nightmare.
"We saw more and more water just gradually seeping into the floor," Wells said.
Eventually he called in the professionals to help clean up the excessive amounts of liquid that started soaking his carpets.
Restoration companies have been seeing similar problems along the entire front range. "It's keeping our crews busy," said Chris Weston of Colorado Premier Restoration. "Our guys are working all the way up to 16 hours a day right now."
At the Wells' home tests show the water behind the basement wall is about a foot high and all that water has to go somewhere and it likely will end up in the basement.
Crews spent the days vacuuming up water and doing it again and again to get moisture off the floors. Welton estimated they've sucked up about 75 gallons of water already.
"It is extremely common in older homes because of the age of the home and the foundation issues they're having with the high water tables," said Weston.
The Wells' basement will need to be redone, after the carpet is ripped out and part of the dry wall is torn down. Wells is keeping upbeat about the damage. "This is really our opportunity to make the space what we are going to love for years to come," Wells said with a smile.
Weston said if you do have a basement with excessive amounts of water, you need to get it dried out quickly. If you don't the moisture will eventually rise to the floors upstairs and it could buckle your hardwood floors or warp you wooden door frames.
More tips and information