This is an archived article and the information in the article may be outdated. Please look at the time stamp on the story to see when it was last updated.
DENVER — Over the last few weeks, the term Pineapple Express was used a few times in reference to the pounding of snow the mountains from California to Colorado have received.
The term is used to describe an atmospheric pattern that delivers a river of Pacific moisture to the western United States.
The term was coined because of the proximity of the moisture's origin to Hawaii. Essentially, the jet stream flow picks up this moisture near the island state and transports it directly to the Pacific Coast where it feeds storms the necessary fuel to deliver the type of rain and snow totals we've witnessed since the beginning of December.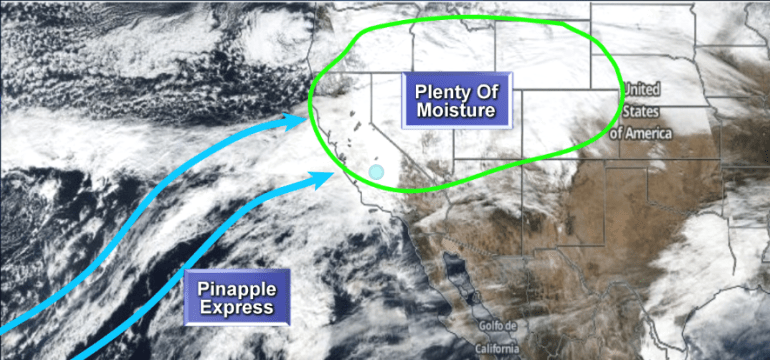 The Colorado snowpack summary from the Natural Resources Conservation Service gives a good gauge of when the Pineapple Express was most prolific across the state.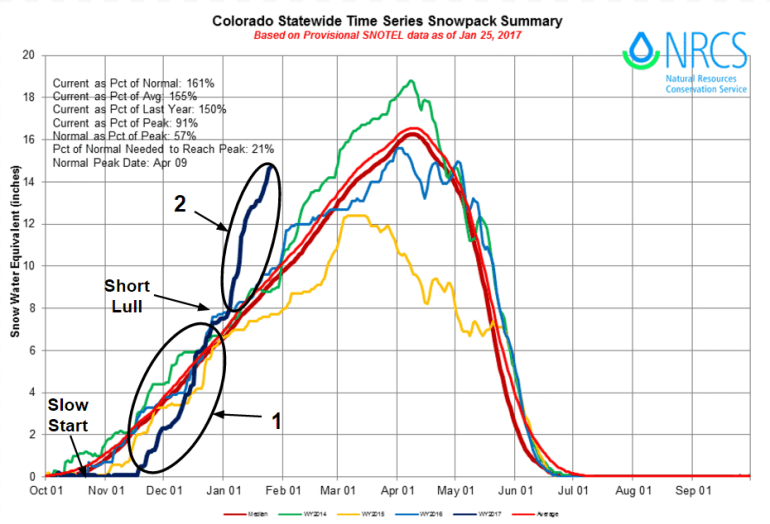 The dark navy blue line represents the snowpack for this current snow season. The thin, light red line represents the average snowpack with the rest of the colors representing snowpack from the past few years.
Most of November was fairly dry, causing some to worry about how the rest of the season would pan out.  Luckily for snow lovers and ski resorts, it wouldn't be much longer before the Pineapple Express would come to the rescue.
The first blast of snow arrived in early December and lasted for nearly two weeks before finally settling down around Christmas.
After a short lull period that lasted through the first few days of the New Year, the snow began to dump again.
The second stretch was the string of days in which so much snow fell, some ski resorts had to close.  
Crested Butte picked up 43 inches of fresh snow over a four-day period during the first week of January and another 55 inches over a five-day span during the second week of January.
Snowfall totals have been quite healthy this year across the entire state. So far, snowfall statewide this season is 161 percent compared to average.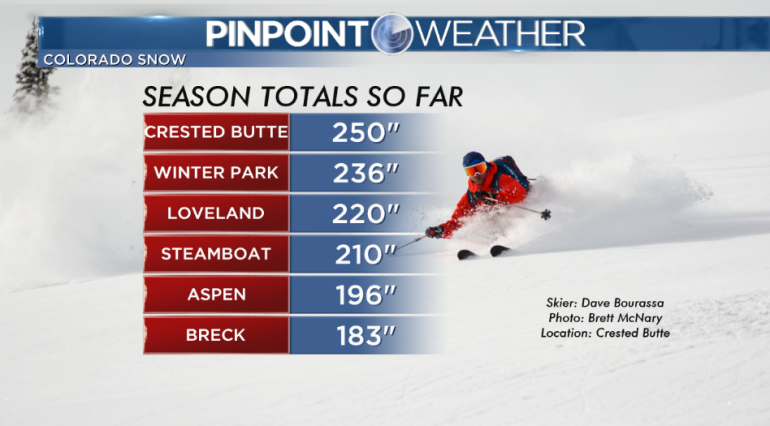 Looking ahead, weather models are starting to hint at a break in the action.  
The Pineapple Express river of moisture has been cut off and a large area of high pressure is expected to settle over the western half of the country.
This will settle the skies and bring an end to the healthy string of impressive snow totals.  
However, with that being said, as bluebird conditions return to the high country, we are looking ahead at a wonderful set of days and great travel conditions to head up to the resorts and enjoy some of that lovely snow.