This is an archived article and the information in the article may be outdated. Please look at the time stamp on the story to see when it was last updated.
DENVER — Look for storms to move out of the Front Range through the foothills, metro and eastern Plains on Monday night. Here is the latest update from the Storm Prediction Center regarding the small threat.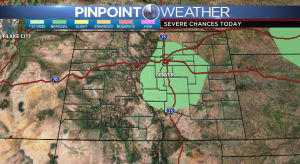 THERE IS A MARGINAL RISK OF SEVERE THUNDERSTORMS ACROSS PORTIONS OF THE CO FRONT RANGE AREA

  SUMMARY
   WIDELY SCATTERED THUNDERSTORMS WITH STRONG WIND GUSTS AND HAIL ARE
   POSSIBLE FROM THE CENTRAL PLAINS TO THE MIDWEST AND LOWER GREAT
   LAKES REGION THIS AFTERNOON AND EVENING.
   AIDED BY OROGRAPHIC LIFT AND UPSLOPE LOW-LEVEL TRAJECTORIES
   NEAR/NORTH OF A STALLED BOUNDARY...THUNDERSTORMS ARE EXPECTED TO
   DEVELOP THIS AFTERNOON INITIALLY OVER THE MOUNTAINS AND
   FOOTHILLS...WITH SOME POSSIBLE DRIFT INTO THE ADJACENT HIGH PLAINS.
   STEEP LAPSE RATES/MODERATE BUOYANCY AND SUFFICIENT VERTICAL SHEAR
   MAY ALLOW FOR A HAIL RISK AND A FEW DOWNBURST-RELATED WIND GUSTS
   THIS AFTERNOON/EARLY EVENING.