This is an archived article and the information in the article may be outdated. Please look at the time stamp on the story to see when it was last updated.
DENVER — Thursday tied for the hottest temperature recorded in Denver's history at 105 degrees. It happened four other times since record keeping began in 1872.
[protected-iframe id="986851994f67c568f45cda849a1345d2-29290497-100353536″ info="https://www.facebook.com/plugins/post.php?href=https%3A%2F%2Fwww.facebook.com%2FMattMakens%2Fposts%2F2132270943467254&width=500″ width="500″ height="427″ frameborder="0″ style="border:none;overflow:hidden" scrolling="no"]
This unprecedented heat wasn't unique to Denver as low 100s spread across the eastern half of the state nearing all-time record highs for many locations.
Temperatures will cool off into the weekend with a few thunderstorms added into the mix.
Some thunderstorms are possible Thursday evening across the state, mostly on the Plains. These storms will have some rain but pose a lightning and damaging wind threat more than anything.
Storms approaching northern Colorado for the weekend will carry more rain with them.
Before that, isolated storms are possible Friday with temperatures staying in the mid-90s.
Saturday will have a storm/rain chance of 30 percent for northern Colorado and there will be enough cool air to hold afternoon temperatures closer to 80 to 85 degrees.
Sunday warms a bit, but still in the mid-80s, and carries a lower storm/rain chance again.
Check interactive radar and zoom in to where you are. Plus, check the radar anytime with the Pinpoint Weather App for iPhone and Android.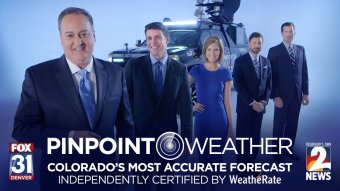 Pinpoint Weather has been independently certified as Colorado's Most Accurate Forecast by WeatheRate.
We're tracking weather today on FOX31 Denver and Channel 2 News — and when conditions are bad we send out the Weather Beast.