This is an archived article and the information in the article may be outdated. Please look at the time stamp on the story to see when it was last updated.
DENVER — High winds and dry conditions are creating dangerous fire conditions across much of Colorado on Monday.
A red flag warning is in place for the eastern half of the state, including Denver.
The Frying Pan Road Fire near Ruedi Reservoir has burned about 300 acres. Pre-evacuation notices went out to some homes in the area and campgrounds too.
In Byers, the wind whipped up another fire that might have been caused by downed power lines. More than 50 firefighters were on the scene from six agencies, including South Metro Fire Rescue.
Some farmers in the area helped out too. They were able to contain the fire with tractors and equipment. The fire is fully contained.
A ticket for open burning or a campfire in Boulder County will cost a minimum of a $500 fine.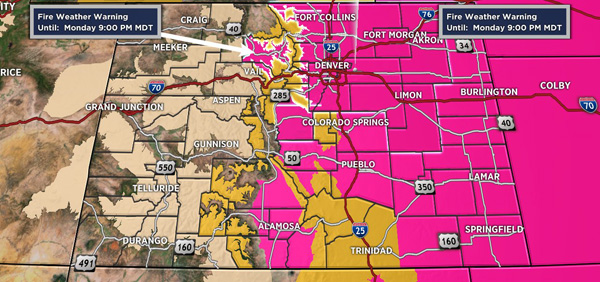 It will be sunny and warm on Monday. Temperatures won't be quite as warm as through the weekend, but it will be above average with highs in the upper 70s.
Winds will become quite gusty throughout the day.  Wind gusts in lower elevations could reach 40 mph at times.  In the mountains, gusts of 50 mph are possible with gusts of 80 mph above the timberline not out of the question.
A cold front will move in late Monday and push temperatures down to the 60s on Tuesday. It will be a dry front in the Denver metro area with a chance of showers late Tuesday.
Another system will push through Tuesday ight into Wednesday to again push down temperatures. Highs won't get out of the 50s on Wednesday, with a sligh chance of showers on Tuesday night into Wednesday morning.