This is an archived article and the information in the article may be outdated. Please look at the time stamp on the story to see when it was last updated.
DENVER — There's one more small snowfall chance on Thursday and Friday, then a significant ridge of high pressure builds in that might last through all of next week.
Call it "Heartbreak Ridge."
The 1986 movie "Heartbreak Ridge" starred Clint Eastwood as Marine Sgt. Tom Highway.
It was his way or the highway.  In this case, the atmosphere is playing the role of Sgt. Highway.
In a nutshell, it means abnormally warm temperatures and no snowfall for the ski areas.
The forecast simulation for Dec. 14 in the middle of the atmosphere (18,000 feet) shows one possible outcome for next week based on the GFS model.
There is agreement among other computer models as well so confidence is high. The warmer colors represent higher pressures (typically warm and dry), while the colder colors represent lower pressures (typically cooler and stormier).
Also of note is how far north in latitude the high pressure ridge extends.
There are abnormally warm temperatures into the Yukon and Alaska if this verifies next week.
This pattern pushes most if not all storm systems east of Colorado leaving the state high and dry."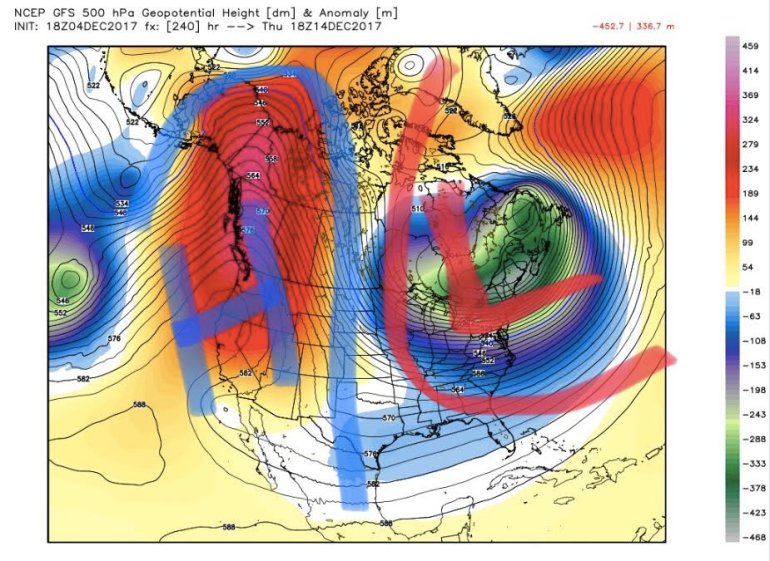 It's unsettling, but we'll get through it. Research indicates that seven of the past 10 Novembers were abnormally warm and dry, but the pattern usually flips quickly leading to an abnormally snowy December.
That's not happening this time — yet. Confidence is high that it will be mid- to late December for a snowy pattern.
The Summit view.
I'm a meteorologist and mountaineer. I climb nearly every week and the view this week was particular bare for early December.
Here's the view from just under 14,000 feet looking at the Sawtooth connecting Mount Evans and Mount Bierstadt.