This is an archived article and the information in the article may be outdated. Please look at the time stamp on the story to see when it was last updated.
HAWAII — Supermarket shelves swept bare. Schools, government offices, attractions shuttering. Sandbags filled. Ports closing.
Hawaiians look more than ready, as two hurricanes spin toward the Aloha State.
But, as hurricanes go, Iselle and Julio — both Category 1 storms — are not exactly Katrina and Ivan. And hurricane centers predict they'll weaken, maybe not even making landfall as hurricanes.
Julio is tracking north, looking like it might not even touch Hawaii, when it passes over the weekend. And ahead of Iselle, scheduled for landfall late Thursday local time, only one island, the Big Island, is under a hurricane warning.
"Tropical storm conditions are expected on the Big Island of Hawaii Thursday, with hurricane conditions expected Thursday night," the Pacific Hurricane Center advised. The storm had maximum sustained winds of 90 mph early Thursday and was 450 east southeast of the Big Island.
Otherwise, the islands of Lanai, Maui, Molokai and Oahu, where the capital Honolulu is located, are under tropical storm warnings and not in Iselle's predicted direct path.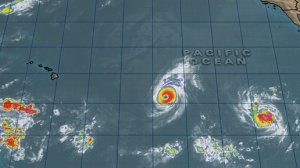 So rare
So, why are these storms for the record books?
A single hurricane in Hawaii is a rarity. The last hurricane warning for a Hawaiian Island was issued in 1993. And, now, here come two, back-to-back.
Maybe that explains in part why residents are piling shopping carts high with emergency supplies and authorities are covering every thinkable base ahead of time.
But the weather anomaly gets even bigger.
Tropical cyclones usually hit Hawaii from the south. Since 1959, only two have come out of the east to make landfall.
On the Big Island, Iselle's bull's-eye, such storms rock the boat hard. The weather is pleasantly unchanging all year round.
Highs are around 80 degrees; some months are a little sunnier or rainier than others, and what the Big Island calls winter is when the average low drops to about 62 degrees — instead of 68 during summer.
The pleasant climate is one of the reasons people vacation in Hawaii all year round.
Storm dangers
But, hurricanes they are, and safe is much better than sorry.
There will be heavy downpours of 5-8 inches over the Big Island; in isolate spots up to 12 inches, the hurricane center predicts.
That could cause rock and mudslides.
Also, the storm surge could come on top of high tide, pushing 1-3 feet of water onto dry land, and depending on overlap with tides, could hit isolated areas hard.
Ports are taking no chance, and early Thursday, the U.S. Coast Guard upped warning levels to signal the the storm was nearing.
"All ocean going commercial vessels and ocean going barges greater than 200 gross tons are expected to make preparations to leave the ports," it said in a statement. Ships wishing to remain in port are required to file a safe mooring plan.
Excitement and fear
In the town of Hilo on the Big Island, people were standing on beaches, anxiously looking out at the water.
"The surfers get excited about these storms, but everyone else is freaking out," said Chris Owens, owner of East Side Builders and a longtime resident.
"A lot of the locals here believe that the tall mountains on the Big Island shield them from hurricanes," Owens said. "But in 24 hours, this theory could be proven wrong."
A National Weather Service map showed waves on islands west of the Big Island rearing up to heights of 10-15 feet. Waves up to 40-feet high at Iselle's current location.
That's potentially good surf to Scott Murray, who owns the Hilo Surfboard Co. He has lived on the Big Island for more than 60 years. Many fellow residents are psyched about the waves and not concerned about potential damage and flooding.
"I'm not really worried about his storm," Murray said.
Stocking up
Customers formed lines from the front to the back of a Cost-U-Less store on Tuesday, clearing shelves of bottled water and stocking up on other supplies.
"A lot of rice, water, toilet paper," store worker Mike Kelley told KGMB.
Bottled water also was sold out at a Honolulu-area Costco.
"So we're going to bottle up water at home now and just pray for the best," would-be customer Lisa Viela told KHON on Tuesday.
Jackie Collins joined a steady stream of drivers trying to fill up vehicle gas tanks at the same Costco.
"We came last night, but it was too crowded, so I thought, 'Well, today I'd better go,'" she told KHON.
School's out; elections still on
The schools on the Big Island and Maui will be closed Thursday as residents await Iselle's arrival.
Some airlines are making concessions to customers ahead of the storms. For people who had been scheduled to travel to or from Hawaiian airports on Thursday and Friday, United Airlines and Hawaiian Airlines say they won't charge fees to change reservations, and they'll waive differences in fares for those changes.
Island Air will do the same for passengers ticketed from Thursday though Tuesday. Delta said it would waive fees for reservation changes for Thursday and Friday, but fare increases could apply.
Hawaii's primary elections will go on as scheduled Saturday, despite the storms, KGMB reported. Local media reported that many turned up for early voting in expectation of severe weather on election day. Others are concerned that voter turnout could be affected.
Hawaii Gov. Neil Abercrombie has signed an emergency proclamation, his office said. It gives the government access to the state's disaster funds.