This is an archived article and the information in the article may be outdated. Please look at the time stamp on the story to see when it was last updated.
DENVER -- Another day of record-breaking heat and strong winds combined with bone-dry conditions will put fire crews on high alert up and down the Front Range on Tuesday.
The high temperature is expected to reach 77 degrees at Denver International Airport, the official reporting station for the National Weather Service. The temperature hit 73 degrees just before 2 p.m., breaking the record high for Tuesday of 71, set in 1995 and 1982.
It's the fourth record high set this month, including an all-time February mark of 80 degrees on Feb. 10.
Abundant sunshine and strong westerly Chinook winds from 20-60 mph will ramp up fire dangers in the state. Stronger gusts will be in the foothills and mountains, with a wind gust to 71 mph recorded in Boulder early Tuesday morning.
A red flag warning wwas be in effect from 11 a.m. to 6 p.m. for the Front Range and the eastern Plains.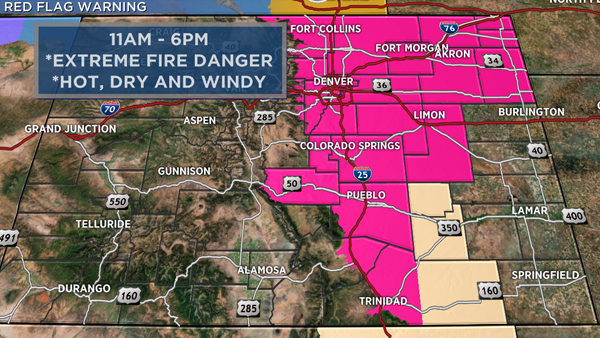 This year currently ranks as the second-warmest February on record in Denver, with records going back to 1872. Denver high temperatures have been running about 10 degrees above normal, which is 46 degrees.
Relief is in the forecast with a strong cold front expected to arrive Thursday. Temperatures will fall into the 30s during the morning hours and snow will develop by noon.
Snow will continue into early Friday before ending. Several inches of accumulation are possible with a lot of melting early.
After sunshine returns Friday and Saturday, there's another chance for snow on Sunday and Monday.