This is an archived article and the information in the article may be outdated. Please look at the time stamp on the story to see when it was last updated.
DERNVER -- Snow will return to the mountains on Wednesday night and last through Thursday.
That's welcome news as the snowpack for the season is running well below normal.
Snow totals could range from a few inches to more than 4 inches in spots.
A cold front will arrive in Denver on Thursday afternoon and then slide onto the eastern Plains during the evening.
Expect rain showers to develop as the front moves through the area. There could even be some thunder.
The rain could mix with or change to snow for a short period of time overnight in Denver. There could be a slushy half inch of accumulation, mainly on grassy areas.
There is a slightly better chance on an inch or more of wet snow in the northeast corner of the state.
Sunshine will return to metro Denver and the Front Range on Friday.  However, there will be very strong wind from the north at speeds up to 40 mph and gusts that could even be higher.
More snow will come to the mountains on Sunday and more rain/snow showers will move into Denver and points east.
Check interactive radar and zoom in to where you are. Plus, check the radar anytime with the Pinpoint Weather App for iPhone and Android.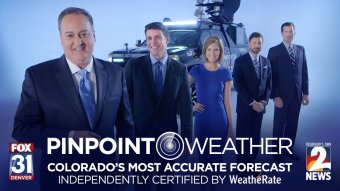 Pinpoint Weather has been independently certified as Colorado's Most Accurate Forecast by WeatheRate.
We're tracking weather today on FOX31 Denver and Channel 2 News -- and when conditions are bad we send out the Weather Beast.