This is an archived article and the information in the article may be outdated. Please look at the time stamp on the story to see when it was last updated.
PUNXSUTAWNEY, Pa. — For many of us, it feels like it was just yesterday in which we were making our New Year's resolutions while watching the ball drop to welcome in 2017.
It what seems like a blink of an eye January has passed us by, and as we say goodbye, we begin to look ahead to the second month of the year.
When you think of February, a few highlights may come to mind such as Black History Month, President's Day or Valentine's Day.
One holiday that might not be though of as often, but is an important and fun marker on many meteorologist's calendar, is Groundhog Day.
Most know it from the 1993 Bill Murray movie appropriately named "Groundhog Day" in which Murray's character, Phil, repeats the same day (Groundhog Day) over and over again.
Sure some parts of the movie hold true to the spirit of the holiday but others, in true Hollywood fashion, are "stretched" a bit.  So let's take a look at what Groundhog Day is, what it has to do with the world of weather, and how things may play out this year.
Every year since 1887, folks from around the country flock to the little town of Punxsutawney, Pa., to hear an exclusive weather prediction given by a groundhog.
Punxsutawney Phil might be the most famous Punxsutawneyian there ever was. Phil's prediction, made annually on Feb. 2, is the quite the event as he looks ahead to what the rest of winter will hold.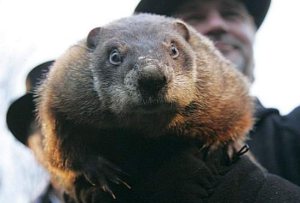 A select group of individuals, known as the Inner Circle, takes care of Phil year-round and also plans the annual ceremony.
Members of the Punxsutawney Groundhog Club's Inner Circle can be recognized by their top hats and tuxedos, and lead a large congregation to the top of Gobbler's Knob, located two miles outside of Punxsutawney to hear the famed forecast.
As the folklore goes, if it's cloudy when Phil emerges from his burrow on that day, then the spring season will arrive early, sometime before the vernal equinox.
If it's sunny, he will supposedly see his shadow and retreat back into his den, and winter weather will persist for six more weeks.
Over the course of history, Phil much more often sees his shadow, forecasting six more weeks of winter-like weather. In fact, only 15 percent of the time does he not see his shadow, signifying there will be an early arrival to spring.
If the past 20 years are any indication, signs are pointing toward Phil seeing his shadow this year and predicting a longer wait until spring arrives.
Through the last two decades, six times he hasn't seen his shadow. This puts the past 20 years well above the historical average of 15 percent.
Another signal would be the fact an early spring was predicted last year. Never in the history of Phil's predictions has he seen his shadow two years in a row.
Only time will tell which way Phil will swing this time around. Either way, we are counting down to the continuation of a great American tradition.