This is an archived article and the information in the article may be outdated. Please look at the time stamp on the story to see when it was last updated.
DENVER -- A new weather pattern begins Thursday across the state with high pressure and drier air moving into Colorado.
There will be smoky sunshine on Thursday with a 10 percent chance of an afternoon thunderstorm in Denver, Boulder and Fort Collins. Highs will reach about 86 degrees.
It will be mostly dry going and returning from school. Temperatures on Thursday morning will be in the 60s with 80s by the afternoon.
The mountains can expect smoky sunshine on Thursday with a 10 percent chance of thunderstorms mainly south of Interstate 0. Highs will be 70 to 85 degrees.
It will be dry and warmer on Friday through Monday. Highs warm to near 90 degrees across the Front Range. The average high for this time of year is 89 degrees.
The Perseid meteor shower reaches its peak on Saturday and Sunday. It will be dry and clear both nights, but smoke from California wildfires could obscure some of the view.
Check interactive radar and zoom in to where you are. Plus, check the radar anytime with the Pinpoint Weather App for iPhone and Android.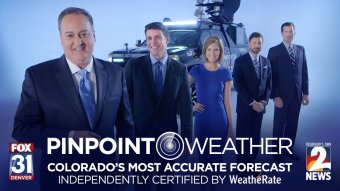 Pinpoint Weather has been independently certified as Colorado's Most Accurate Forecast by WeatheRate.
We're tracking weather today on FOX31 Denver and Channel 2 News -- and when conditions are bad we send out the Weather Beast.