This is an archived article and the information in the article may be outdated. Please look at the time stamp on the story to see when it was last updated.
DENVER -- A dense fog advisory is in effect for most of the Front Range until 9 a.m. Friday, then sunshine takes over.
There will be a 10 percent chance of an afternoon thunderstorm with highs reaching about 79 degrees.
The mountains can expect sunshine with a 10 percent chance of afternoon thunderstorms with highs ranging from 55 to 70 degrees.
A much drier weather pattern moves in Saturday, Sunday and Monday with sunshine and temperatures warming into the 80s.
The big Rockies weekend series with the Los Angeles Dodgers will have temperatures in the 70s and falling into the 60s on Friday. On Saturday, it will be dry and in the 70s. On Sunday, it will be dry and in the 80s.
The Broncos open the season at 2:25 p.m. Sunday against the Seattle Seahawks. It will be try with temperatures in the 80s.
Check interactive radar and zoom in to where you are. Plus, check the radar anytime with the Pinpoint Weather App for iPhone and Android.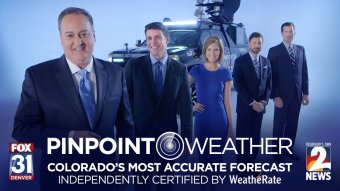 Pinpoint Weather has been independently certified as Colorado's Most Accurate Forecast by WeatheRate.
We're tracking weather today on FOX31 Denver and Channel 2 News -- and when conditions are bad we send out the Weather Beast.