This is an archived article and the information in the article may be outdated. Please look at the time stamp on the story to see when it was last updated.
DENVER -- One day after breaking a 75-year-old record with a high of 80 degrees, snow moved into the Denver metro area on Thursday. Temperatures by early Friday morning were expected to fall into the teens.
A rain/snow mix arrived in Denver late Thursday morning. It changed to all snow as temperatures dropped at midday.
Roads became treacherous in the foothills and mountains. Wet conditions and rapidly dropping temperatures forced drivers to slow down in the metro area as well.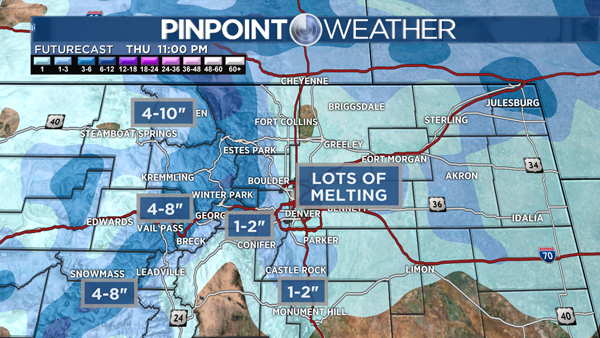 The Palmer Divide and foothills were getting more snow, where more than 2 inches of accumulation were likely.  The snow will end by 10 p.m.
RELATED: Interactive radar
The mountains received the snow first Thursday morning. There will be 4-8 inches in most mountain towns by Thursday night, with a few pockets of 10 inches in the higher elevations.
Denver had gone 36 days -- since Oct. 12 -- without any moisture being recorded at the official reading station at Denver International Airport. And that was only 0.1 of an inch. It has been since July since significant moisture fell in Denver.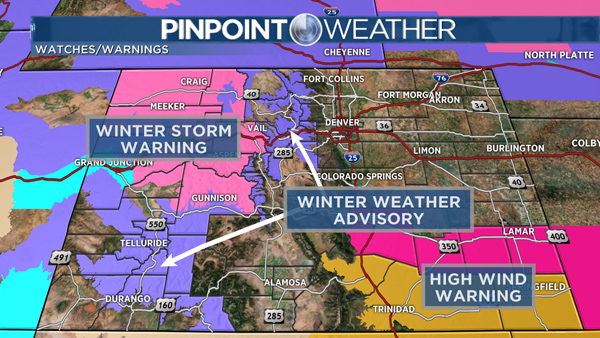 The National Weather Service said the city officially received seven-tenths of an inch of snow at its DIA weather station. That's enough to call it "measurable snow" and bring to an end a string of 199 days since the last measurable snow in Denver.
This is the third latest first snowfall of the season in Denver, behind only Nov. 19, 1931 and Nov. 21, 1934.
Once the storm moves out overnight, sunshine and dry weather will return for the weekend, with highs in the 50 and then 60s.
Monday night into Tuesday holds another chance for mountain snow and rain/snow for Denver.