This is an archived article and the information in the article may be outdated. Please look at the time stamp on the story to see when it was last updated.
DENVER — It has been more than two weeks since the last snowstorm in the metro area. The next system will finally move through early this week.
February started with 11.6 inches of snowfall on Feb. 1-2, but there has been nothing since. But the big snow was 3.9 inches more than the average total for February.
In the dry spell, the Denver metro area has warmed a lot; the month is nearly 5 degrees warmer than average. Denver set a record high Thursday at 73 degrees, breaking the previous mark of 71 in 1930.
A system will bring cooler temperatures and a chance for snow. The system will move into the area Monday and could impact Tuesday, too.
However, you may feel some changes Saturday. The wind will be gusty at times, the cloud cover will increase and temperatures will stay in the 40s.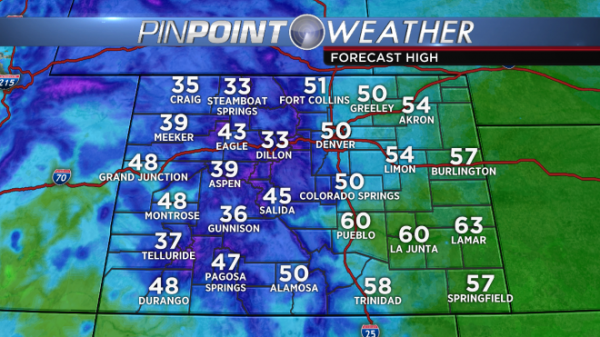 This is expected to be a quick-moving system that might limit the amount and location of the heaviest snow. Plus, temperatures have been so warm that the storm could bring rain and a slushy wet snow instead of a fluffier variety like that of early this month.
Depending on ultimate track and speed, there will be areas of snowfall accumulation, but the amount is to be determined as the system is days out.
"Currently located off the Pacific Coast, the storm is scheduled to arrive in Denver Monday afternoon," meteorologist Mark Monstrola said. "The precipitation associated with it will start in the form of scattered rainfall.  When temperatures drop after sunset Monday, rain will switch to light snow, but will quickly end Tuesday morning/afternoon."
Monstrola said he does not expect much snowfall accumulation because of the system's speed.
Temperatures will be near 50 on Monday ahead of the cold front, then only in the 30s on Tuesday. More gusty wind is also possible with the system.