This is an archived article and the information in the article may be outdated. Please look at the time stamp on the story to see when it was last updated.
DENVER -- A blizzard warning was in effect Friday morning for the northeastern Plains as heavy snow and strong wind reduced visibility.
Snowfall totals will range from 3-6 inches by Saturday morning with localized higher amounts up to 10 inches.
A winter weather advisory continues for the central mountains until Saturday as heavy snow and windy conditions continue.
A high wind warning remains in effect for the Interstate 25 corridor, the Denver metro area and eastern Plains through midnight.
Wind gusts along the Front Range might get as high as 50 to 60 mph.
Light snow will continue to fall early Friday morning across the Denver area.
It will clear out by midmorning, but there will be slick conditions on the roadways.
Temperatures will be drastically cooler than Wednesday and Thursday, only making it into the low 40s by Friday afternoon.
Expect dry, cloudy and windy conditions through the midday hours in the Denver metro area.
In the mountains and on the eastern Plains, snow will continue through the day. By this Friday night, a cluster of snow showers will redevelop over the Denver area in time for the commute.
Snow will continue throughout the evening and overnight hours, ending early Saturday morning.
Totals in the Denver metro area will range from a trace up to 2 inches, with 2-4 inches along the Palmer Divide.
The mountains will see a snowfall range of 4-8 inches, with localized areas reaching 11 inches.
Sunshine will return by Saturday afternoon as highs make it into the low 50s. Breezy conditions will continue to start the weekend, with gusts as high as 35 mph.
Temperatures will jump above average by Sunday, reaching the mid-60s with plenty of sunshine. This quiet, warm weather will continue through the start of next week.
Check interactive radar and zoom in to where you are. Plus, check the radar anytime with the Pinpoint Weather App for iPhone and Android.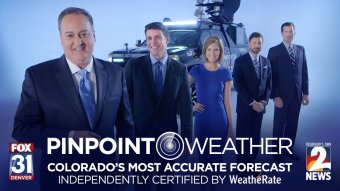 Pinpoint Weather has been independently certified as Colorado's Most Accurate Forecast by WeatheRate.
We're tracking weather today on FOX31 Denver and Channel 2 News 0-- and when conditions are bad we send out the Weather Beast.