This is an archived article and the information in the article may be outdated. Please look at the time stamp on the story to see when it was last updated.
DENVER — It will be abnormally warm on Tuesday with temperatures climbing into the 60s in Denver, Boulder and Fort Collins.
There will be partly to mostly cloudy skies thanks to a wave cloud most of the day and southwest winds increasing in the afternoon to 10-30 mph.
Mountain highs reach the mild 30s and 40s with wind speeds increasing rapidly above treeline at 30-70 mph. Skies stay partly to mostly cloudy.
The first of numerous cold fronts arrives Wednesday and stalls into Thursday morning.
There will be snow accumulation mainly in the central and northern mountains near the Continental Divide and east, with 1-6 inches by Thursday night.
That cold front stalls in northern Colorado with 0-4 inches of accumulation between Wednesday night and Thursday morning.
Four inches are possible in Fort Collins, with 0-1 inch in Denver.
Friday will be dry across the Front Range with highs in the 40s. It will be windy in the mountains with the next round of snow loading up for Friday night.
It's going to be a snowy, cold weekend in Colorado. There will be 0-2 inches of snow in Denver on Saturday and Sunday, and it will be much colder on Sunday highs in the with teens and 20s.
The mountains are in for the best stretch this season so far. Snow is likely Saturday, Sunday, Monday and Tuesday. Big-time accumulation is possible in the central and northern mountains.
Check interactive radar and zoom in to where you are. Plus, check the radar anytime with the Pinpoint Weather App for iPhone and Android.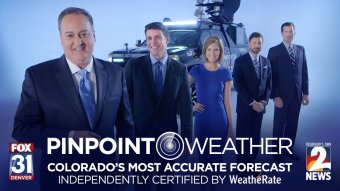 Pinpoint Weather has been independently certified as Colorado's Most Accurate Forecast by WeatheRate.
We're tracking weather today on FOX31 Denver and Channel 2 News — and when conditions are bad we send out the Weather Beast.