This is an archived article and the information in the article may be outdated. Please look at the time stamp on the story to see when it was last updated.
DENVER -- It will be another warm day on Thursday with high temperatures about 66 degrees in Denver, Boulder and Fort Collins.
The day will start sunny, then turn partly to mostly cloudy with breezy conditions to the west of the city.
A cold front hits the mountains on Thursday night with a rain/snow mix changing to mostly snow overnight.
Snow continues on Friday with 3-6 inches falling above 9,000 feet. Highs on Thursday with bee in the 30s and 40s, with and 20s and 30s on Friday. It will be gusty on Friday.
That cold front delivers rain showers changing to snow in Fort Collins, Boulder and Denver about 10 a.m. Friday and continuing through the afternoon before tapering off by 5 p.m.
The bulk of the moisture moves through between 11 a.m. and 3 p.m.  Snow totals will be 0-1 inch in most places, with 1-3 inches in the foothills.
The storm will impact the Rockies' home opener, with first pitch scheduled for 2:10 p.m.
A delay is likely, but the game could start by 6 p.m. as the front moves out of the area.
Temperatures will fall into the 30s and upper 20s by the end of the game.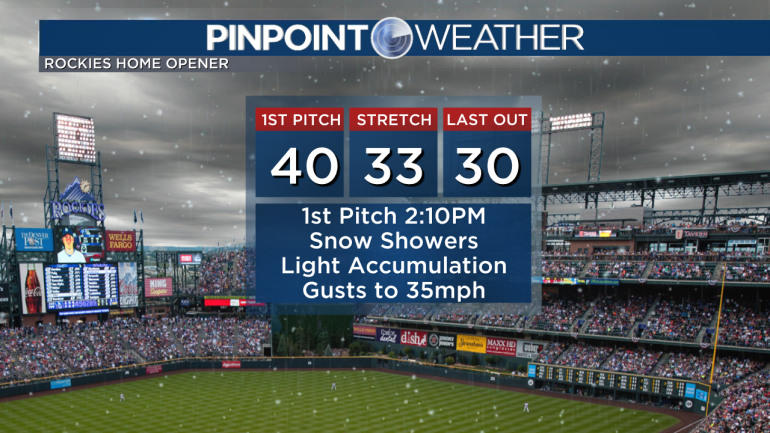 Saturday has a 20 percent chance of rain showers with a 40 percent chance of rain showers on Sunday along with windy conditions.
Check interactive radar and zoom in to where you are. Plus, check the radar anytime with the Pinpoint Weather App for iPhone and Android.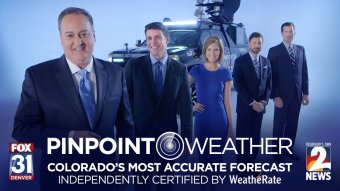 Pinpoint Weather has been independently certified as Colorado's Most Accurate Forecast by WeatheRate.
We're tracking weather today on FOX31 Denver and Channel 2 News -- and when conditions are bad we send out the Weather Beast.