This is an archived article and the information in the article may be outdated. Please look at the time stamp on the story to see when it was last updated.
The end is near and the credits are about to roll — but we're not done with 2013 just yet.
There's still time for you to get involved and tell us your top sporting moments over the past 12 months.
While we've put our heads together and come out with our own top 10, we'd love to hear from you.
So get in touch on Twitter by tweeting @Masters_JamesD with your thoughts on another stellar sporting year.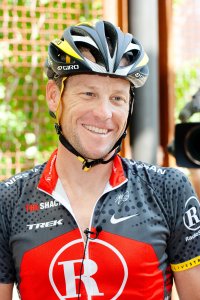 Confession of the year — Lance Armstrong
He was a hero and role model to millions across the globe but Lance Armstrong's world came crashing down in January after admitting to using testosterone and human growth hormone, as well as EPO — a hormone naturally produced by human kidneys to stimulate red blood cell production.
The confession, made to U.S. talk show host Oprah Winfrey, led to condemnation from millions and saw Armstrong stripped of his seven Tour de France titles.
Shocking story of the year — Oscar Pistorius
Heralded as an inspiration to athletes across the world just a year earlier, Oscar Pistorius' fall from grace was as rapid as it was shocking.
A star of the London Olympic Games, Pistorius, nicknamed the "Blade Runner" for the special prostheses he uses for sprinting,was arrested by South African police after admitting to shooting girlfriend Reeva Steenkamp on Valentine's Day.
He said it was an accident and will go on trial in March 2014 charged with murder.
Winning moment of the year — Andy Murray
A year after crying his eyes out on Wimbledon's Centre Court, Andy Murray finally ended Britain's 77-year wait for a men's singles champion.
Murray defeated Novak Djokovic in a pulsating final to win his second grand slam and erase the pain of the defeat to Roger Federer 12 months earlier.
After winning Olympic gold on the same court at London 2012, Murray ensured his place in the nation's sporting history.
Goodbye of the year — Alex Ferguson
After 26 years, 13 league titles, two European Champions League crowns, five FA Cups and four League Cups, Sir Alex Ferguson brought down the curtain on his illustrious managerial career.
Ferguson, who won 38 trophies during his tenure at Manchester United, led the club to the Premier League title in his final season before stepping down.
The Scot, the most successful British manager in the history of the game, bid farewell to Old Trafford following a period of unparalleled success.
Team of the year — Bayern Munich
It was the year that German football left the watching world in a trance as both Bayern Munich and Borussia Dortmund reached the European Champions League.
Bayern, beaten in the 2012 final in its own stadium by Chelsea, triumphed 2-1 at Wembley and went on to win the treble after claiming the Bundesliga title and German domestic cup.
The German team's form in the past few months has been nothing short of sensational, winning 14 of its 16 league games to sit top of the league going into the winter break as well as qualifying for the last 16 of the Champions League.
Comeback of the year — Oracle Team USA
Never before in the 162-year history of the America's Cup has any race captured the imagination quite like the contest between Oracle Team USA and Emirates Team New Zealand.
Trail;ing 8-1, Oracle came back from the abyss to win 9-8 in the final race in San Francisco.
It was the comebacks of all comebacks with the Americans, which were deducted two points before the opening race for placing lead pellets in their catamarans to gain extra weight, prevailing in dramatic fashion.
Goodbye of the year — Sachin Tendulkar
He was not just a cricket player — he was a god.
After 200 Test matches, 100 international centuries, Sachin Tendulkar waved goodbye to his adoring legion of fans in Mumbai.
"The Little Master" as he is affectionately known, is not just the highest run scorer in Test match cricket, is he is a global icon of the game itself.
With a net worth of about $160 million from endorsements, property and cricket earnings, according to Singapore-based Wealth X, Tendulkar is cricket's richest player.
Domination of the year — Sebastian Vettel
Can anybody stop Sebastian Vettel?
The 26-year-old German clinched his fourth consecutive Formula One drivers' title in a season where he won 13 races to equal the record set by compatriot Michael Schumacher in 2004.
Vettel joins the likes of Juan Manuel Fangio, Alain Prost and Michael Schumacher as a four-time champion and will be favorite to win a fifth in 2014.
Heartwarming tale of the year — Zahir Belounis
After a two-year struggle to leave Qatar following a pay dispute, Zahir Belounis, the French-Algerian footballer, returned home to Paris.
Belounis, who had endured a bitter struggle to secure an exit permit from the Gulf state, had previously threatened to go on hunger strike and spoken of suicide.
The 33-year-old wrote an open letter to Bayern Munich manager Pep Guardiola and France legend Zinedine Zidane to help gain publicity for his cause.
Not long after he was granted his exit permit following a media campaign.
History makers of the year — European Solheim Cup team
For the very first time, Europe's women managed to do something which had always eluded them — they won on American soil.
Liselotte Neumann's Europeans, needing just three and half points from the final day's play to retain the trophy they won in Ireland two years ago, won five and halved four of 12 singles matches to complete an 18-10 victory.
It was 17-year-old Charley Hull who stole the show on the final day — recording an astonishing five and four win over 2010 U.S. Open champion and world No. 11 Paula Creamer.
So what did we miss?
Should we have included the Boston Red Sox winning the World Series? The Chicago Blackhawks triumphing in the Stanley Cup? Bosnia and Herzegovina qualifying for the World Cup? Or the British and Irish Lions securing a first test series win in 16 years against Australia?
Tell us what you think in the comments below.
™ & © 2013 Cable News Network, Inc., a Time Warner Company. All rights reserved.