Erik Spoelstra would love to take credit. In four years in Miami, LeBron James measurably improved as a scorer. His three-point shooting percentages jumped. His post game developed. The final two seasons with the Heat were the most efficient of James's career. Miami's strong coaching staff is often cited as a reason for that development. Spoelstra says the credit belongs elsewhere.
"It's LeBron," says Spoelstra. "He had such a drive to win that he was hardwired to continue to add to his game. And he just continued to add every single year."
James's pursuit of the NBA's all-time scoring record—he is 36 points behind Kareem Abdul-Jabbar entering Tuesday's game against Oklahoma City—is a combination of skill, longevity and a relentless desire to improve. In 2003, James entered the NBA with an NBA-ready body and a skill set to match. Except for one. "Everyone said he couldn't shoot," said Tristan Thompson, James's former teammate in Cleveland. Operating as a point forward in the Cavs' offense, James succeeded despite an inconsistent jump shot. "Early on, he was just playing," said Sixers coach Doc Rivers. "He was just better than everybody." He averaged 31.4 points in his third season and powered Cleveland to the Finals in his fourth. However, in the '07 Finals, San Antonio exploited James's perimeter weakness in a four-game sweep.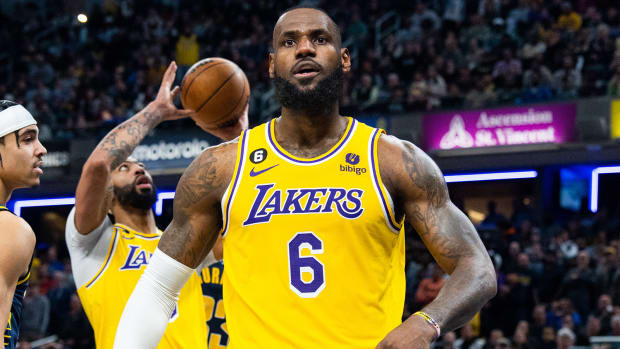 "I know when we used to play him, we just tried to stay in front of him and give him a lot of room," said Spurs coach Gregg Popovich. "And if he shot it, we were happy."
James's gift, says Spoelstra, is understanding what teams are willing to give him and becoming ruthlessly efficient at it. After losing to the Spurs in 2007, James dedicated himself to improving his jump shot. "They went under everything," said James. "I wasn't comfortable with shooting the ball at that point in time of my career." James made 20% of his threes in his first Finals appearance. Six years later, in a rematch with San Antonio, James connected on 35.4%. "He started to learn how to knock that shot down and now he's shooting threes," said Popovich. "It's been a process for him."
In Miami, failure again fueled James's growth. Paired with Dwyane Wade and Chris Bosh, James was brilliant in his first season with the Heat, averaging 26.7 points. But in the 2011 Finals, Dallas exposed a weakness. Despite a 6'9", 250-pound frame, James lacked a reliable low-post game. Recognizing that, the Mavericks matched down on James, using smaller guards like Jason Kidd, Jason Terry and J.J. Barea to defend him. James averaged 17.8 points. Dallas would go on to beat Miami in six games.
That offseason, James threw himself into developing his post game. "We really needed that anchor," says Spoelstra. "Just to be able to control tempo, control pace, and then advance against the really good defensive teams." James spent a week in Houston, doing two-a-days with Hakeem Olajuwon. "He's a sponge," says Wade. He studied Michael Jordan's fadeaway. While Jordan got his shot off by leaping above the arms of defenders, James used his athleticism to burst away from the defender, creating a shot that is effectively unguardable.
"We would say to him, 'This is what we're facing in the playoffs. We're going to face even more of this,'" says Spoelstra. "He's so intuitive and intelligent that these discussions were seamless. It was like he understood, before I would even get the sentence out."
The payoff was immediate. Facing Oklahoma City in the 2012 Finals, Miami regularly ran plays through James in the post. "With their speed and quickness it really was our best offense," says Spoelstra. After noting that teams, wary of his bulldozering drives to the rim, were giving him a cushion from the midrange, James continued to improve his pull-up jump shot. In the '13 Finals, against San Antonio, it was an 18-foot pull-up with 28 seconds to play in Game 7 that put the game away.
"He felt enough pain early on in his career that it became one of his biggest weapons," says Spoelstra. "And now it's crazy. You go under on him at 23 feet; he's going to make you pay for that. He's as good a pull-up three-point shooter now as any of these guys in the game. Just think about how much he's added. Defenses were left with the catch-22, a no-win either way. He got to a point where he was such a weapon. If you didn't double him, he was scoring or getting fouled."
Said James, "Early on, it was a lot of just speed and jumping and then figuring it out. And you get smarter and smarter, you say, 'Teams know they can key on these things, so how can I make sure that I am unguardable and can always put myself in position where I do what I want to do and not what the defense wants me to do.'"
At 38, James needs to take care of his body. But he always has. He started stretching regularly when he was 10. Before bed. After he woke up. In high school, he iced after games. He tries to get as much as 12 hours of sleep a day, including midday naps. He does yoga. He meditates. Thompson recalls seeing James in the weight room three hours before a game. "He said, 'Little bro, the weight room isn't going to prevent you from getting injuries, but it's going to give you longevity to play at a high level,'" said Thompson. Indeed, as physically gifted as James is, he has worked tirelessly to maintain it, which has enabled him to have the longevity needed to be in position to break the scoring record.
James has been adamant that he never set out to break the scoring record. "He's more about winning," said Anthony Davis. Still, those who know him say he will relish the accomplishment. Including Wade, who for years watched the criticism of James's offensive game fuel him. "If there is one record that LeBron wants to walk away with more than the assist record, it would be the scoring record," says Wade. "Because it's what people said he couldn't do."