On Wednesday night, the U.S. men's national team and its interim coaching staff kicked off the 2026 World Cup cycle in administrative limbo. On Thursday morning, they awoke in Los Angeles to what U.S. Soccer Federation (USSF) president Cindy Parlow Cone called "a clean canvas."
Already without a full-time manager for the foreseeable future thanks to the review and investigation into Gregg Berhalter's on-field performance and off-field conduct, the USSF now finds itself without a sporting director and a men's general manager.
On Thursday, the federation announced the resignation of sporting director Earnie Stewart, the former U.S. midfielder who's returning to his native Netherlands next month to become the director of football at PSV Eindhoven. Stewart is the USSF's chief soccer officer overseeing the appointment of men's, women's and youth coaches and team staff. The USSF also confirmed the previously reported departure of men's GM Brian McBride, who worked on developing the program's relationships with its players and their clubs.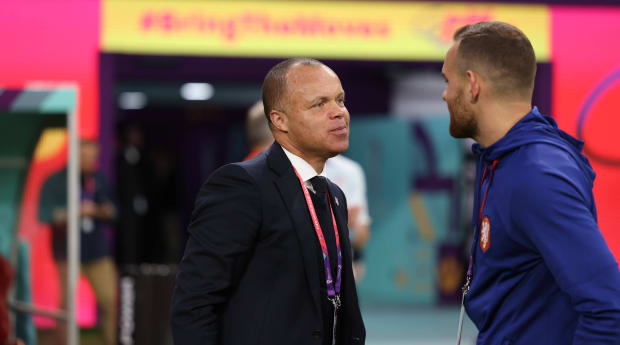 Parlow Cone and USSF CEO JT Batson stressed that Stewart and McBride weren't leaving because of the scandal that erupted just after the Qatar World Cup, when the federation hired a law firm to look into a 1991 domestic violence incident in which Berhalter struck his now-wife, Rosalind.
"No impact whatsoever," Batson said when asked if there was a connection.
That investigation was prompted by accusations levied by Danielle and Claudio Reyna, the Berhalters' long-time friends, former U.S. internationals and parents of forward Gio Reyna. The Reynas were upset about their son's limited World Cup playing time and Gregg Berhalter's subsequent discussion of Gio's behavior at a post-tournament conference.
Nevertheless, even if there's no cause and effect, Stewart's Feb. 15 departure will increase the level of uncertainty surrounding the men's national team as it begins the slow build toward 2026. Anthony Hudson, a World Cup assistant who was in charge during the Americans' 2–1 friendly loss to Serbia on Wednesday, will remain at the helm for the next few months and perhaps through this summer's Concacaf Gold Cup. The U.S. faces Colombia on Saturday night in L.A., then meets El Salvador and Grenada in Nations League play in March. Additional Nations League games could take place in early June. This year's major competition, the Gold Cup, is scheduled for June 24-July 16.
"We would love to have the sporting director in place prior to the Women's World Cup," said Parlow, referring to the tournament that begins July 20. "But we're not putting definitive timelines on this because we we want to do it right, and we want to make sure we have the right person in place."
That individual then will oversee the hiring of a men's national team coach.
"We're hopeful that we can fill these two positions by the end of the summer so that the men's team has plenty of time in preparation for the World Cup," Parlow Cone said.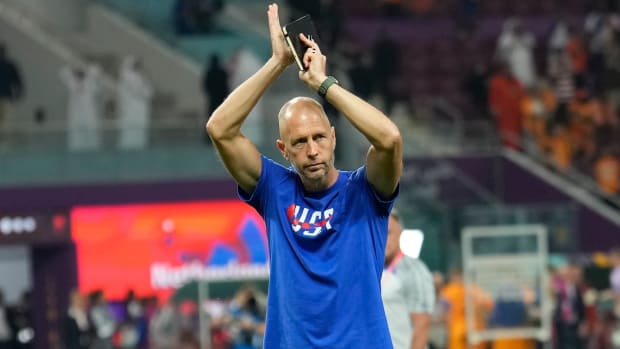 U.S. Soccer has hired Sportsology, a New York consulting firm, to assist in the sporting director search and in a review of the federation's technical structure. McBride released a statement Thursday revealing that he had decided in October that he didn't want to continue as GM (his original contract expired Dec. 31). Last month, he spoke with U.S. Soccer about potentially shifting into a newly-created role (not sporting director), but those conversations fell apart. He's now leaving the organization altogether on Jan. 31.
Parlow Cone and Batson said they'll work with Sportsology on identifying an ideal administrative and technical structure going forward. It may or may not feature a GM, and it may or may not mirror the women's national team's setup, which includes GM Kate Markgraf. Sportsology's chairman, Mike Forde, was a director at Chelsea (2007-2013) and Bolton Wanderers (1998-2007).
Parlow Cone reiterated that Berhalter, whose contract also expired at the end of December, "remains a candidate" for the coaching job. Berhalter has said he'd like to continue. It's unclear where Stewart was leaning as he conducted his review, and his resignation would seem to dim Berhalter's already fading prospects. Stewart, McBride and Berhalter were World Cup teammates, old friends and colleagues. Absent that support, and considering everything that's unfolded over the past couple months, it wouldn't surprise anyone if a new sporting director went in a different direction. At this point, even if Berhalter remained under long-term consideration, he'd be waiting at least six months for word.
"As an organization, we have grown and changed organically over the years. But now I think this is the opportunity for us to take a more holistic view and determine how we can be most effective and efficient moving forward. While we certainly didn't plan it this way, this presents us with a great opportunity," said Parlow Cone, who's been president since March 2020. "I know this moment feels a bit uncertain for you … for our staff, for players. What it actually is, is a clean canvas."
Stewart, who like McBride is a member of the National Soccer Hall of Fame, began his front office career in 2006 at NAC Breda, one of his former clubs. He left for AZ Alkmaar in 2010 and then joined the Philadelphia Union in 2015. There, he helped build an academy and first team that's now become one of the best in MLS. Stewart moved to Chicago to become U.S. Soccer's men's GM in June 2018 and, after appointing Berhalter later that year, he was promoted to sporting director in the summer of 2019. A couple months later, Vlatko Andonovski was hired to manage the American women. Stewart had recently signed an extension with the USSF through 2026, according to The Washington Post.
During Stewart's tenure, the refreshed U.S. men's team returned to the World Cup after failing to qualify in 2018. Berhalter's young squad was talented but not very deep or consistent in the attack, and it ran out of gas against the Netherlands in the round of 16. The U.S. still has won only one World Cup knockout game in 92 years (against Mexico in 2002). Regionally, the Americans overhauled Mexico atop Concacaf, winning the 2021 Gold Cup and Nations League titles and going 1-0-1 against El Tri in World Cup qualifying. The U.S. U-20s won the 2022 Concacaf crown, their third straight. That ensured the American men will compete in next year's Summer Olympics for the first time since 2008.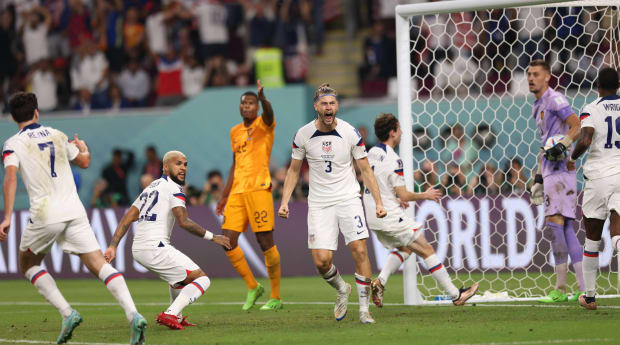 The U.S. women have remained atop the FIFA ranking under Stewart, Markgraf and Andonovski. But a team in transition stumbled at the 2021 Olympic tournament, a senior event for women, and wound up with bronze. Their quest for a Women's World Cup three-peat begins July 21 against Vietnam.
Despite the confidence federation leadership seemed to have in him, however, Stewart was living in the U.S. without family—his wife and relatives remained in the Netherlands—and PSV represents a significant opportunity. PSV, a former European champion, has won three Eredivisie titles in the past eight seasons and competes regularly in the Champions League and/or Europa League (PSV has advanced to this season's Europa League knockout stage, where it'll face Sevilla). Three members of the Dutch side that knocked the U.S. out of the World Cup were PSV players, including forward Cody Gakpo, whose performance in Qatar earned him a move to Liverpool.
"Earnie is an accomplished and highly-sought-after leader, and there have been many roles that have come his way throughout his tenure at U.S. Soccer. Earnie informed us of this opportunity and this was one that both JT and I, we just really understood why this was something that he couldn't turn down," Parlow Cone said.
Batson added that the possibility of Stewart leaving for PSV emerged a couple weeks ago.
"It was an opportunity for him on a very personal level to be near his family and to return home, and we agreed to let him out of his contract," Parlow Cone continued. "Though we're sad to see him go, we're focused on the opportunity ahead for U.S. Soccer and this really does give us an opportunity for a fresh look."
The one bit of continuity the American men can count on is the player pool. The U.S. was the second youngest team at the World Cup, and Berhalter fielded the competitions youngest starting lineups. Almost the entire core will be around and in its prime for the duration of the 2026 cycle. Everything else, however, from leadership to coaching and its potential impact on player selection and development, tactics and culture, has been plunged into the unknown. The North American World Cup is three and a half years away.
"We're using this as an opportunity to review our sporting structure to ensure that we're set up for success, for all the things we want to accomplish over the coming years," Batson said. "We also understand that this is something that we want to bring to life quickly. So we're doing some of these things concurrently so we're best positioned to have the right leadership in places as we go into big tournaments."