With a poor offense and middling pitching, the Giants are in the thick of the NL wild-card race with a dozen games left in their season, beginning with huge games the next two nights at the Diamondbacks. How they've done it is a credit to roster efficiency.
But if this is the future of baseball, I want no part of it.
The Giants are interesting in the way mutual funds are interesting. They are smart, efficient and lackluster.
San Francisco and its manager, Gabe Kapler, deserve credit for squeezing every bit out of this roster, which is just two games over flat mediocrity with the help of the best record in MLB in extra innings (11–3) when the rules are gerrymandered. So, no, this is not a juggernaut.
My problem with the Giants, especially if they cap this season with a playoff berth, is how other teams might copy their gig-economy approach to baseball. It is not fan friendly. Truncated starts by pitchers, an ever-changing lineup with role players and no stars, a 16-person coaching staff, the worst team speed of any contender . . . the Giants are a well-managed success more than they are an aesthetic one.
Start with how the Giants treat starting pitching. San Francisco does give the ball these next two games to Alex Cobb and Logan Webb, which means they can play a more traditional game in which starters actually have a mathematical chance of winning the game. That's the exception to the San Francisco way.
Giants starters throw an average of just 72 pitches per game, the shortest leash in MLB. They have thrown three innings or less 43 times, 13 more than any other team. It's also the most such abbreviated starts in baseball history other than the 2018 and '19 Rays (71, 53), who popularized the opener concept.
With all those truncated starts, Giants starters are deployed to avoid losing the game, not to win it. They are 27–45 (.375), an unfathomable rotation record for a team in contention in the last two weeks of the season. The worst rotation winning percentage by a playoff team is .464 by the 2005 Padres (52–60).
Excepting the 60-game season in 2020, Giants starters this year likely will set a 141-year franchise low for wins. (The 1984 rotation went 36–63.) They have turned baseball upside down.
We all know wins and losses are not the best measurement of pitching acumen. But you know who cares about wins? The casual fan, which makes up most of your fan base. Twenty wins in a season and 200 in a career still mean something from a value-added perspective. There is still something dramatic about watching a starting pitcher work deep into a game.
This is not just on the Giants. All teams have bought into this trend—though injury rates continue to soar, which is one reason Red Sox manager Alex Cora will spend some of his offseason time studying a better way to develop pitchers. If you can train starters to go six innings, he reckons, you have developed a new competitive advantage.
The Rays built a playoff team by letting their starters throw 100 pitches just seven times all year. The Dodgers' entire staff has thrown 100 pitches just 13 times. Clayton Kershaw did that by himself in 2015—by the end of July!
The number of qualified pitchers has been cut in half just since 2011, from 93 to 46. The fewer innings, the fewer wins. The fewer wins, the fewer stars. At the All-Star Game this year, for instance, of the 20 pitchers who paraded to the mound, only one, Gerrit Cole, was a starter who ever received one first-place Cy Young Award vote.
Until 2018, the Giants had only one season with just one qualified pitcher ('03). This year, with only Webb qualified, will mark the third time in just the past six seasons with only one qualified starter.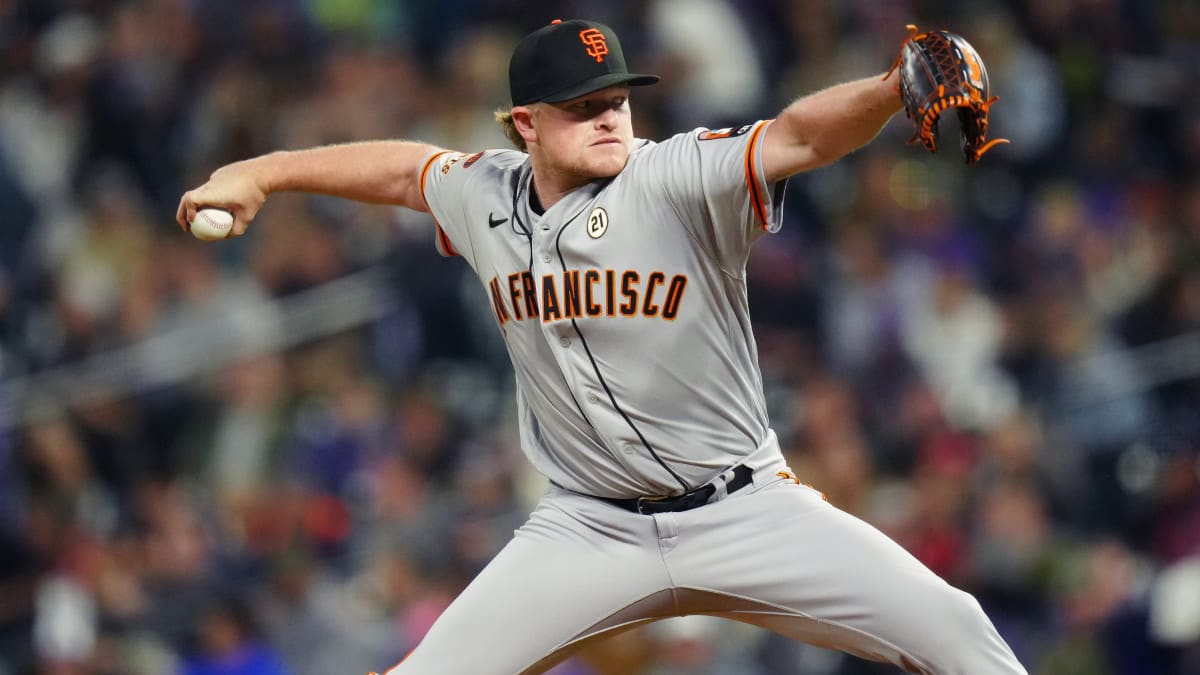 The San Francisco offense uses a similar gig methodology: split the work among many. You can do this when you don't have star players. Kapler never has used the same lineup more than four times. He has used 13 players in the No. 3 spot, including a different one every game in a four-game series over the weekend at Colorado (J.D. Davis, Michael Conforto, Wilmer Flores and Joc Pederson). For the fifth time in the past seven seasons, the Giants will not have a player with 80 RBI.
It is not an entertaining offense. San Francisco ranks 15th in walks, 19th in homers, 25th in strikeouts, 21st in runs per game and 30th in stolen bases. Only the Yankees and White Sox have a lower average sprint speed than the Giants.
What do they do well? Matchup baseball. No team has sent more pinch hitters to the plate than the Giants. They are seventh best in MLB at winning the platoon advantage on offense and fourth best at winning it on defense. Sorry, but that's not something the ad department can work with when it comes to selling tickets.
The new rules have made baseball a faster, more athletic and more risk-taking game this year. With their lack of speed and star power, the Giants missed that train. They also missed the attendance boost that accompanies that excitement. The Giants are one of only five teams not to get an attendance increase this year. Only the Nationals and White Sox, both non-contenders all year, have seen a bigger drop. The Giants have lost 26% of their paying customers since 2016, their last winning team without COVID-19 restrictions.
Farhan Zaidi has run the Giants as president of baseball operations since 2019. The franchise-record 107 wins from '21 looks like an outlier; the team has played .500 baseball in the two years since and one season prior. Zaidi has not signed a free agent for more than the $44 million that went to Carlos Rodón, who opted out after the first of those two seasons. The team CBT 40-man payroll figure dropped from third in 2018 to 13th this year.
Give credit to the Giants for at least thinking big. They bid for Aaron Judge and briefly had an agreement with Carlos Correa before medicals ended that deal. They also are likely to bid strongly for free agent Shohei Ohtani this offseason, though they appear to be outside the top three teams of most likely options to fit Ohtani.
It would help the Giants' argument for Ohtani if they can show him the postseason success he craves. It's been nine years since San Francisco won a playoff series. The next two nights could make or break this season for the Giants. If not, their fate will rest with seven of their final 10 games against the Dodgers.
Play begins today with five teams separated by two games competing for three spots: the Diamondbacks, Cubs, Marlins, Reds and Giants. San Francisco holds tiebreakers over the Marlins and Reds and needs one win against Arizona to hold that tiebreaker as well (It went 1–5 against the Cubs.)
The overall numbers tell you there is no way the Giants should be here, but here they are, and they have a real shot at seizing a playoff spot, especially with two or three tiebreakers in their favor. It may not be exciting, but is a credit to Zaidi and Kapler and the way they have run this mutual fund of a baseball team.