All eyes may be on next week's Super Bowl, but that doesn't mean the rest of the sports world has gone quiet. College basketball is heating up, with a series of top-ranked matchups slated for the weekend, while the NHL holds its All-Star game and the NFL puts on the Pro Bowl. With so many exciting events on the schedule, there are plenty of opportunities to catch sports must-see contests in person.
We have compiled a list of the weekend's best deals and bargain seats across a range of sports, using insights from SI Tickets.
The listed prices below are based on SI Tickets data gathered Friday, Feb. 3, and are subject to change. Please visit sitickets.com for the latest prices.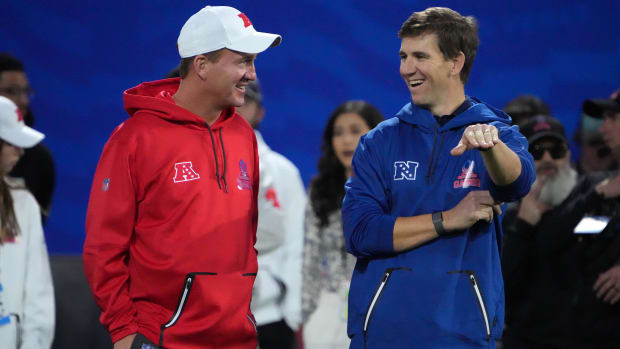 Minimum Ticket Price: $36
Average Ticket Price: $87
The NFL Pro Bowl's revamped festivities will culminate with a flag football game on Sunday at Las Vegas' Allegiant Stadium. The competition will feature dueling brothers Peyton and Eli Manning, with Peyton serving as coach for the AFC side and Eli at the helm of the NFC squad.
Seats for the overhauled competition are available starting at $36, a bargain for those looking to get their NFL fix without shelling out serious Super Bowl-level cash.
Minimum Ticket Price: $59
Average Ticket Price: $93
The Gamecocks' Feb. 5 trip to Storrs, CT, has been circled on the women's basketball schedule since the start of the season. In a rematch of last year's national championship, No. 1 South Carolina will take on No. 5 UConn, with Dawn Staley's side looking to extend its undefeated streak. The Huskies, plagued by injury, have endured plenty of hardship this year and will need a stellar outing to take down the Gamecocks.
Tickets to this burgeoning rivalry are posted for as little as $59 as fans clamor to catch reigning national player of the year Aliyah Boston take on Geno Auriemma and company.
Minimum Ticket Price: $112
Average Ticket Price: $181
First place is on the line in No. 10 Texas and No. 7 Kansas State's Big 12 showdown. The Longhorns currently sit atop the conference, with the Wildcats just one game back in a crowded Big 12 competition. Kansas State got the better of the teams' last meeting, defeating Texas 116–103 in January, marking the highest-scoring game in Wildcats history.
Seats to Bramlage Coliseum are available starting at $112 for a matchup with a lot on the line.
Minimum Ticket Price: $162
Average Ticket Price: $380
The NHL has descended upon Sunrise, Florida, with the league's superstars going head-to-head in this year's All-Star game. Featuring the likes of Connor McDavid, Alex Ovechkin and Sidney Crosby, the weekend is packed with talent. A $1 million prize awaits the winners, incentivizing some exciting hockey.
Tickets to the event are posted for as little as $162, with fans able to take in the NHL's best in sunny Southern Florida.
Minimum Ticket Price: $679
Average Ticket Price: $1,018
Assembly Hall will be jumping for Saturday's in-state rivalry matchup between No. 1 Purdue and No. 21 Indiana. While the Boilermakers are the clear favorites, the Hoosiers will be propelled by a rowdy home crowd and a palpable underdog mentality. If Indiana wants to pull off a marquee upset, the Hoosiers will have to deploy its concrete defense and silence a red-hot Zach Edey.
Seats to Saturday's game are available starting at a whopping $679, with the Indiana-Purdue bout almost sure to be an instant classic.