Two weeks in and plenty of movement.
The NFL quarterback rankings entering Week 3 have seen some rising and falling. Among the bigger risers are the Buccaneers' Baker Mayfield and Daniel Jones of the Giants, who moved up eight and six spots, respectively.
As for the tougher performances, we see the Bears' Justin Fields dropping eight spots after consecutive duds to start the campaign, while Jimmy Garoppolo and Derek Carr are also shuffling backwards.
Before we get into the updated rankings, a reminder about our ground rules:
Quarterbacks will be judged on a mix of their historical and current play. The further we get into the season, the more current play matters. For example, if Patrick Mahomes has a bad week, he's not dropping behind Josh Dobbs should Dobbs throw for 400 yards.
Each week, we will rank the 32 quarterbacks projected to start. So if an entrenched starter is out for a month, look for his backup to occupy the space. He'll be ranked accordingly.
There's no distinct formula. This is about a mix of eye test and statistics.
Alright, here we go.
32. Zach Wilson, New York Jets
Last Week: 31
31. Bryce Young, Carolina Panthers (30)
Young has not enjoyed a great start to his NFL career. The Panthers are 0–2, Young has been sacked six times and he's throwing for a minuscule 4.2 yards per attempt.
On Monday night against the Saints, Young was 22-of-33 for 153 yards and a touchdown, rarely threatening New Orleans down the field. His NextGen passing chart is brutal, with only 12 of his 33 passes traveling more than five yards in the air.
If Carolina and its first overall pick are going to start winning, the Panthers have to encourage Young to throw the ball deeper.
30. Josh Dobbs, Arizona Cardinals (32)
29. Justin Fields, Chicago Bears (21)
28. Desmond Ridder, Atlanta Falcons (29)
27. Sam Howell, Washington Commanders (28)
Unlike Young, Howell can't lose. He's 3–0 to start his career, including a pair of wins this season over the Cardinals and Broncos.
On Sunday, the Commanders fell behind 21–3 before Howell rallied the team with a 32–3 run, outlasting Denver despite a completed Hail Mary as time expired. Howell consistently pushed the ball downfield, going 7-of-9 with two touchdowns on throws going at least 10 air yards.
Washington has a big test coming up this week against the Bills at FedEx Field, but Howell is beginning to look like a quarterback who offers real hope to a beleaguered fan base.
26. Kenny Pickett, Pittsburgh Steelers (26)
25. C.J. Stroud, Houston Texans (27)
24. Russell Wilson, Denver Broncos (20)
Negative plays were a huge problem last year for the Broncos, and it's happening again. Wilson has already been sacked nine times, tying for fifth-most in the league. His pocket time per dropback is also 2.7 seconds. Only Fields in Chicago takes longer to unload the ball.
While Wilson was 18-of-32 for 308 yards and three scores against Washington, those numbers are somewhat deceiving.
Of that yardage, a whopping 138 yards came on a drive with the Commanders in prevent defense, which culminated in a Hail Mary, and a wide-open, blown-coverage bomb to Marvin Mims Jr. Otherwise, Wilson was 14-of-26 for 170 yards. Nothing special.
23. Anthony Richardson, Indianapolis Colts (24)
22. Ryan Tannehill, Tennessee Titans (23)
21. Mac Jones, New England Patriots (19)
20. Jimmy Garoppolo, Las Vegas Raiders (16)
19. Deshaun Watson, Cleveland Browns (17)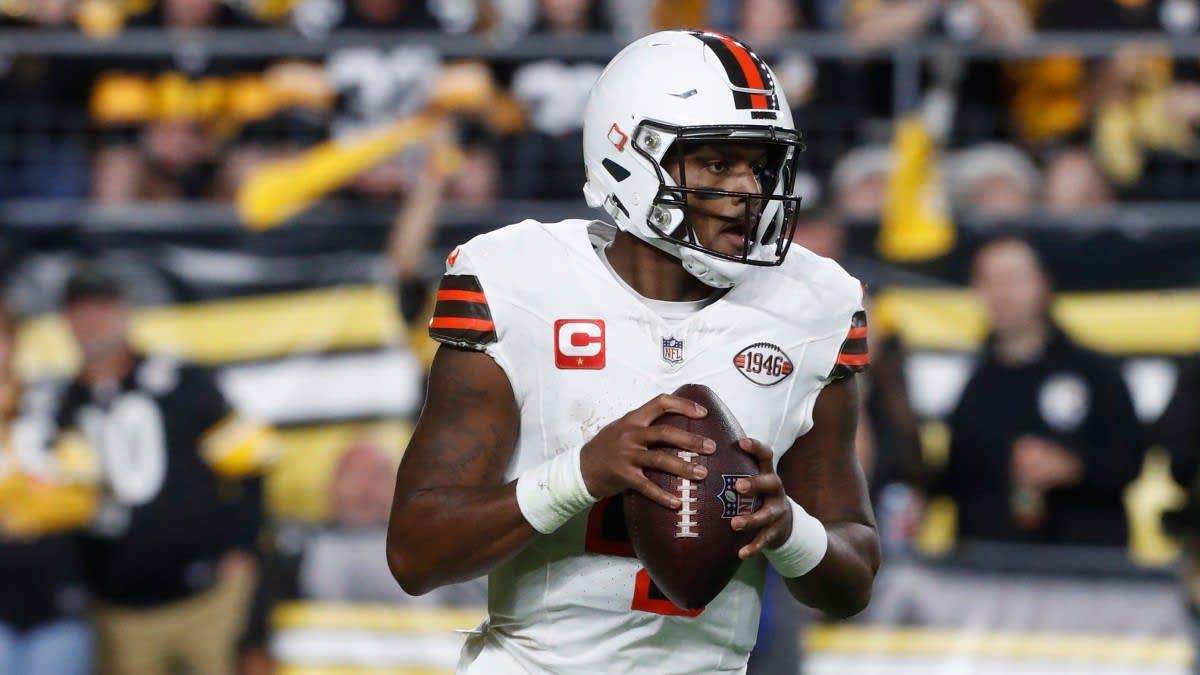 It was easy to understand why Watson struggled through the final six games of last season after he returned from suspension. Now, after a full offseason in coach Kevin Stefanski's system, those excuses are dwindling.
Through two games, Watson has looked awful. He's completing 55.1 percent of his throws, ranking only better than the Jets' Zach Wilson in that category. Against the Steelers on Monday night, Watson lost a pair of fumbles while also throwing an interception in a 26–22 defeat. His QBR of 16.5 was the third-lowest of his career.
Now, without running back Nick Chubb for the remainder of the year, it only gets tougher.
18. Jordan Love, Green Bay Packers (18)
17. Baker Mayfield, Tampa Bay Buccaneers (25)
16. Daniel Jones, New York Giants (22)
15. Derek Carr, New Orleans Saints (12)
The Saints signed Carr this winter with the belief he could get the offense to the next level. Accompanying an elite defense, Carr has done enough, and New Orleans is 2–0 as a result, tied with the Falcons and Buccaneers atop the NFC South.
So far, Carr has largely been as advertised. Against the Titans in Week 1, Carr averaged 9.2 yards per attempt with some deep shots mixed into the contest. The same was true on Monday against the Panthers.
As Carr grows more comfortable with coordinator Pete Carmichael and his new weapons, he should open up a bit more.
14. Brock Purdy, San Francisco 49ers (14)
13. Kirk Cousins, Minnesota Vikings (13)
12. Geno Smith, Seattle Seahawks (15)
After struggling through the season opener against the Rams in which he threw for a paltry 112 yards, Smith went wild facing the Lions this weekend. The big problem against Los Angeles? He threw just five passes of more than six air yards.
Smith was far more aggressive against Detroit, going 11-of-12 on throws of at least 10 air yards, including a touchdown. He also found receiver Tyler Lockett more often after targeting him four times in Week 1, increasing his volume to 10 targets with eight receptions.
For Seattle to contend in the NFC West, it needs Smith to be at his best. He certainly was that last Sunday.
11. Dak Prescott, Dallas Cowboys (11)
10. Jared Goff, Detroit Lions (10)
9. Lamar Jackson, Baltimore Ravens (9)
8. Matthew Stafford, Los Angeles Rams (7)
7. Tua Tagovailoa, Miami Dolphins (8)
6. Justin Herbert, Los Angeles Chargers (5)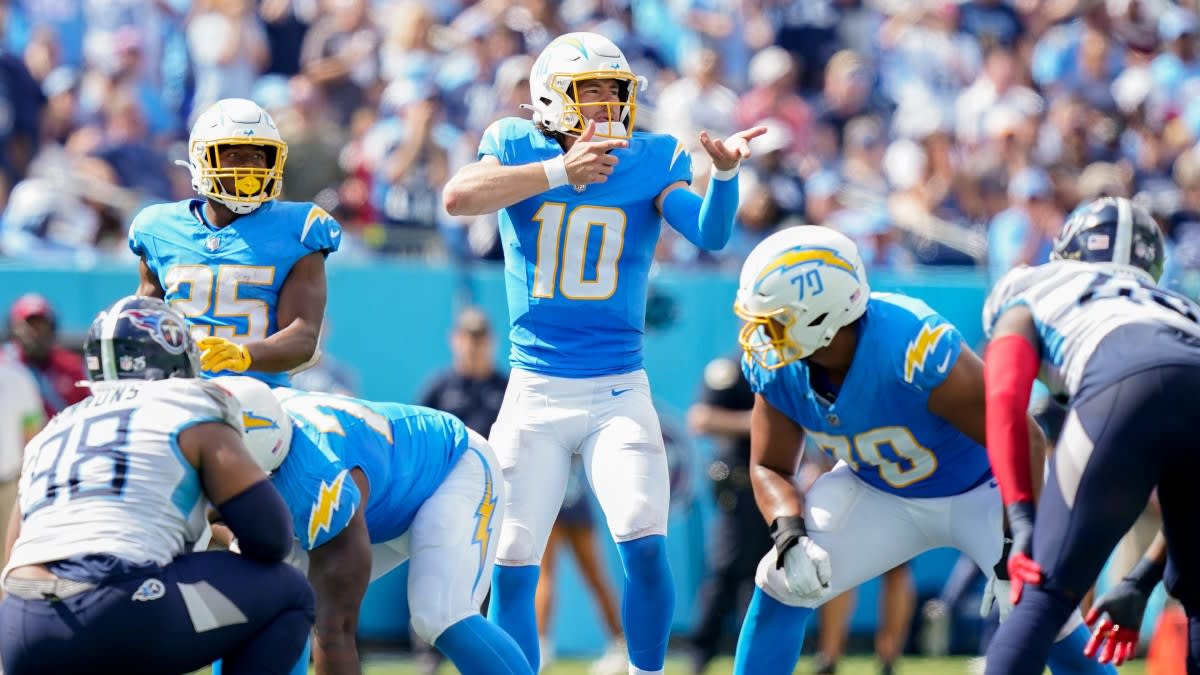 Let's get this out of the way at the top: Herbert is an elite talent. However, that's not translating into victories, and his lack of a coach isn't the only reason.
On Sunday, Herbert had four chances to beat the Titans. Leading 21-17, the Chargers had two fourth-quarter drives. They punted twice, gaining a total of one first down. Trailing 24-21, they drove inside Tennessee's red zone and kicked a field goal. Then, after winning the toss in overtime, Herbert threw three incompletions and never saw the ball again.
At some point, to join the truly top-tier quarterbacks in the game, Herbert has to win a few of these tilts. He must finish, even when the rest of his team is more anchor than assistant.
5. Trevor Lawrence, Jacksonville Jaguars (3)
4. Jalen Hurts, Philadelphia Eagles (4)
It's been an underwhelming start for Hurts. He's 26th in passing yards (363), directly behind Jordan Love, Jimmy Garoppolo and Deshaun Watson. He's also posting a 33.3 percent success rate and 12 passing first downs, both worst in the league for starters.
Under new coordinator Brian Johnson, Philadelphia's offense has run effectively but struggled to generate the same attacking-style passing game we saw in 2022. This Week 2 passing chart says it all.
Smart money says it's a matter of time with weapons like receivers A.J. Brown and DeVonta Smith, along with tight end Dallas Goedert.
3. Josh Allen, Buffalo Bills (6)
2. Joe Burrow, Cincinnati Bengals (2)
1. Patrick Mahomes, Kansas City Chiefs (1)