After taking a gap year to stoke rampant speculation as to where he might land upon his return to the NFL, Sean Payton is now the coach of the Broncos. Congratulations to him.
There will be plenty of takes—all accurate to some degree—about the meaning of this hire.
For one, it's certainly refreshing to see a new owner with deep pockets spend lavishly on a coach. In a salary-capped league, this is where we see the difference between a committed owner and one who is simply content existing. New head coaching salaries declined a bit last year, according to industry sources, showing a league-wide interest in saving money at that position in particular. Payton, who makes about five times as much per season as the average first-time head coach, is anything but a bargain.
Another thing: It should be encouraging to Broncos fans that the front office truly believes in the roster built by general manager George Paton. Paton spent two first-round picks, a second-round pick and a fifth-round pick on Russell Wilson and hired Nathaniel Hackett. When Wilson flatlined in Denver, Paton was able to remain aboard, scapegoat the rookie coach and spend additional draft capital, like their 2023 first-round pick, to acquire Payton (since Payton was still under contract with the Saints, whom he coached from '06 to '21, the signing required compensation).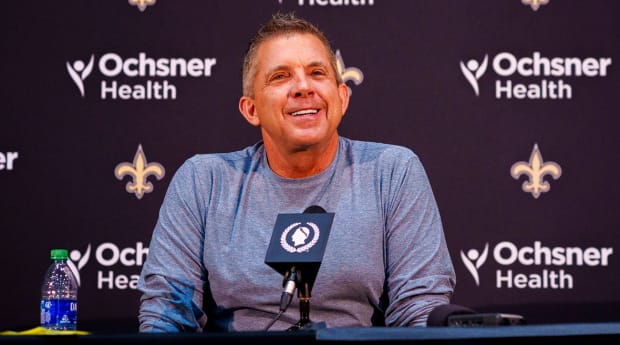 Speaking of the quarterback, Payton's tenure with Wilson will unquestionably put to rest the chicken-or-the-egg questions we've had about Wilson and Pete Carroll for half a decade now. At the moment, given that Hackett was dismissed because of Wilson's dismal 2022 season, the blame, at least in terms of the general public, lies with the coach (ignoring the fact that Geno Smith is now considered a star in a Seahawks offense that couldn't produce much of anything for Wilson). The unvarnished truth is always satisfying.
Left out of the conversation will be what I am most curious about: Is this really what Payton wanted? I mean, of course he's going to say it is. He might even stand next to Wilson, pantomime a horse with his right hand and say "Let's ride" at the press conference. Rarely does anyone except for your cool, slightly boozed aunt show up to a wedding, look at the couple and say, "I'll give it two years. Tops."
Payton left New Orleans around the same time the Dolphins were trying to illegally heist the league's best available coaching talent and pair him in Miami with Tom Brady. The Saints were collapsing from a roster standpoint and still face major financial decisions that will reshape their near future. With no immediate answer at quarterback and no draft capital to improve their circumstances in that regard, bailing for a lucrative television job and an elongated free agency—especially with the potential of a job opening in Los Angeles with the Chargers, for example—was a no-brainer if Payton could stomach the idea of leaving a place where he is revered for winning Super Bowl XLIV and has been counted on.
And, at the time, his plan seemed bulletproof. He was, by far, the most experienced and successful candidate in a market begging for proven talent. He could have a landscape of his choosing and not have to struggle with the same issues that would accompany life in New Orleans.
But he ended up in Denver, which will end up looking an awful lot like the Saints' situation he left. Wilson, going into his age-35 season, is not a long-term answer at the position. If Payton has assurances he can move on from Wilson, doing so will create a different, but not dissimilarly disadvantageous, salary cap situation given that Wilson just signed a lucrative long-term deal full of guaranteed money.
Unless the Broncos can somehow convince defensive coordinator Ejiro Evero to stay after (1) firing his longtime best friend, Hackett, and (2) also not promoting him as the coach, the defense will regress. Payton, who reportedly had touted mastermind Vic Fangio as a running mate of sorts during the process, will have a very difficult time convincing Fangio to return to the place where he was unceremoniously fired a few years back, too. Fangio is very likely to end up the defensive coordinator of the Dolphins.
So, this is not necessarily Payton walking into a fully renovated retirement home of his dreams. Perhaps that is fine with him. Some coaches are invigorated by the idea of a teardown and rebuild, like walking into the middle of someone else's game of SimCity. But he always had that in New Orleans.
At least based on the circumstances surrounding his departure, it seemed as though he was after something different. Something a little bit less like where he ended up.