This is an archived article and the information in the article may be outdated. Please look at the time stamp on the story to see when it was last updated.
MIAMI — Miami Marlins pitcher Jose Fernández, one of baseball's brightest stars, was killed early Sunday in a boating accident, Florida authorities said.
Fernandez, 24, and two other men were found dead after their 32-foot boat was discovered crashed at the entrance of Miami Harbor, said Fish and Wildlife Commission public information officer Lorenzo Veloz.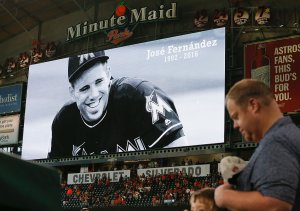 Coast Guard personnel out on patrol noticed the vessel upside down on the north end of a rocky jetty shortly after 3:15 a.m., Veloz said at a news conference Sunday morning.
Divers recovered two of the bodies under the boat and the third victim was found on the rocks.
The names of the two other victims — also in their 20s — are being withheld until relatives could be notified.
The men were personal friends of Fernandez, Veloz said.
Based on impact evidence and the severity of damage, officials concluded the boat — a 32-foot-SeaVee center console model — hit the rocks at full speed, Veloz said.
Fernandez was a passenger on the boat and he was not the owner, Veloz said.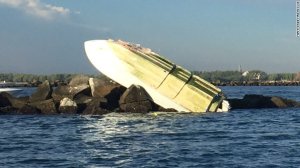 "The boat is a total loss right now from what we can see," Veloz said. "It's bad. There's no other word for it, it's horrible, it's bad, it's bad."
Drugs and alcohol did not appear to be factors in the accident, he said, but he added that investigators had been been unable to get under the overturned wreckage by early Sunday, and autopsies had not yet been done.
None of the three victims was wearing life vests, he said.
"The magnanimity of his personality transcended culture, religion and race, I mean it just did," Marlins president David Samson said at an emotional news conference Sunday afternoon, flanked by the team and other officials.
Several people appeared visibly shaken.
"Jose is a member of this family for all time," Samson said. "His story is representative of a story of hope, and of love and of faith, and no one will ever let that story die."
Many fans spoke of their sadness that, having already achieved remarkable sporting success, Fernandez's life had been cut short just as he was starting a family.
Five days ago, the young star had posted a picture to Instagram of his pregnant girlfriend, with the caption: "I'm so glad you came into my life. I'm ready for where this journey is gonna take us together."
The Marlins' game against the Atlanta Braves was canceled as a result of the news, but other games will go on, Samson said.
"When you watch kids playing Little League … that's the joy that Jose played with — and the passion he felt about playing," said Marlins manager Don Mattingly, stopping midsentence to wipe away tears.
He appeared too emotionally shaken to continue.
Fernandez was born in Cuba and defected to the United States as a 15-year-old in 2008.
Drafted by the Marlins in 2011, he went on to become the franchise's star pitcher, named National League Rookie of the Year 2013.