This is an archived article and the information in the article may be outdated. Please look at the time stamp on the story to see when it was last updated.
DENVER — One of the largest spectator events in the state kicks off Monday in Steamboat Springs.
The fifth annual USA Pro Challenge brings the top bicycle racers in the world to Colorado for the weeklong event.
The racers will go through some of the most beautiful places in Colorado in the 620-mile race.
About 1 million people are expected to turn out to watch the event, which wraps up in downtown Denver on Sunday.
Race fans dropped an estimated $130 million in the cities along the challenge course last year. Hotels and motels in Steamboat Springs this weekend were reported to be at 100 percent capacity. And that's expected to be the case in all the race towns this week.
The first day is a circuit race in Steamboat Springs. On Tuesday, racers go from Steamboat Springs to Arapahoe Basin. Then it's on to Aspen, Breckenridge, Loveland and Fort Collins.
Things wrap up Sunday with a sprint from Golden to Denver with a spectacular finish in Civic Center Park.
One of the favorites to win is 25-year-old Taylor Phinney from Boulder. He's coming back from a serious injury.
The circuit race begins at 11:40 a.m.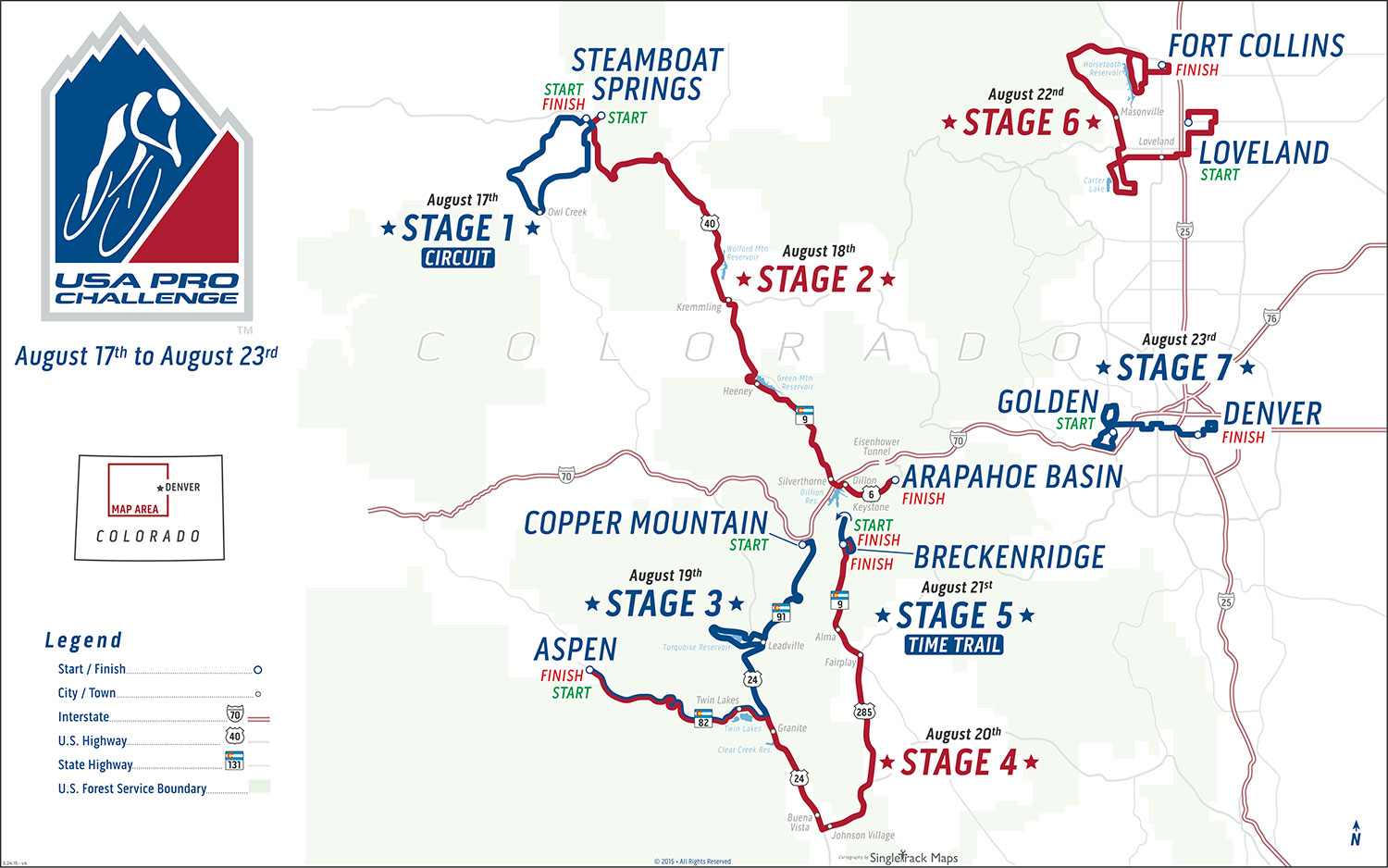 Stage 1: Steamboat Springs circuit (Aug. 17)
The nearly 49-mile circuit will be completed twice that will include the Route 27 KOM climb and going through the town of Oak Creek. Distance: 97 miles
Stage 2: Steamboat Springs to Arapahoe Basin (Aug. 18)
The cyclists will climb Rabbit Ears Pass out of Steamboat Springs and ride south through Kremmling, Silverthorne and Dillon. The riders then will go east and ride 5 miles up Loveland Pass to Arapahoe Basin. Distance: 103 miles.
Stage 3: Copper Mountain to Aspen (Aug. 19)
Copper Mountain will be a host for the first time and will be the starting point for Stage 3. The cyclists will immediately climb Freemont Pass and go through Leadville. After a descent, there will be more climbing up Independence Pass before a rapid descent into Aspen. More than half of Stage 3 will take place above 10,000 feet. Distance: 101 miles.
Stage 4: Aspen to Breckenridge (Aug. 20)
It will be back to Breckenridge for Stage 4, a repeat of a stage from 2013. There will be 20 miles of climbing out of Aspen on Independence Pass, then the riders will also climb Trout Creek Pass and Hoosier Pass. With sprints in Buena Fista and Fairplay, it's then a climb to Breckenridge. Once in the town, the cyclists will go up Moonstone Road and drop down Boreas Pass. Distance: 126 miles.
Stage 5: Breckenridge time trial (Aug. 21)
The time trial for the first time will be held in Breckenridge. The 8 1/2-mile trial starts flat, but then there's a climb up Moonstone Road before descending Boreas Pass to the finish line. Distance: 8 1/2 miles.
Stage 6: Loveland to Fort Collins (Aug. 22)
The cyclists arrive on the Front Range for the first time for Stage 6 beginning in Loveland. After a flat start, there will be climbs on the north side of Carter Lake, then up Rist Canyon. The cyclists then will ride past Horsetooth Reservoir before coming into Fort Collins. Distance: 102 miles.
Stage 7: Golden to Denver (Aug. 23)
The race will have its traditional ending in Denver and this year's finale is a repeat of the final stage in 2011. Starting in Golden, the cyclists will then make the 4-mile climb up Lookout Mountain before descending back into Golden. Then it's a sprint through Wheat Ridge and Lakewood before doing four laps on the Denver circuit around Civic Center Park, City Park and down 17th Street.  Distance: 68 miles.