This is an archived article and the information in the article may be outdated. Please look at the time stamp on the story to see when it was last updated.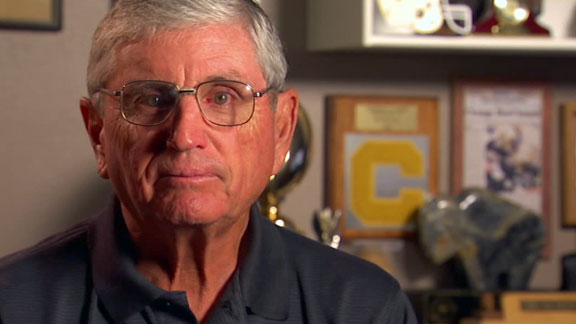 BOULDER, Colo. — National-title winning head coach Bill McCartney, who was at the helm of the CU Buffaloes football program during the glory days of the 1980s and 90s, has accused his former employer of racism in the firing of Jon Embree.
McCartney made those comments on an ESPN Denver radio program hosted by Nate Kreckman and former Buffalo quarterback Charles Johnson Wednesday. He began with some milder commentary but ended his segment by raising his voice about what he called the unjust treatment of Embree, who was fired after two years at CU with a 4-21 final record.
As a benchmark for his concern, McCartney referenced the trials he was allowed to endure at the beginning of his 12 years at CU and the length of the tenure allotted to Embree's white predecessor, Dan Hawkins, who was given fire years before he was fired.
"I honestly think (I got more time) because I'm Caucasian," McCartney said. "I believe black men have less opportunity, less tenure, shorter time."
CU chancellor Phil DiStefano did explicitly say at Tuesday's press conference that Embree's firing had nothing to do with race. Not only did McCartney say he didn't buy that statement, he called it insulting.
"I heard the chancellor say it doesn't matter what color Embree is," McCartney said. "To me, that offends every person out there. That comment suggested everything is done on a fair scale. It's not. Men of color don't have the same privileges and opportunities."
McCartney led the Buffaloes to their last national championship in 1990 and compiled a 93–55 record from 1982 to 1994 that his predecessors have all failed to match. And it was with that credibility that McCartney supported Embree's claims that the recently-dismissed head coach did things "the right way."
McCartney offered that opinion despite the fact that Embree's Buffaloes appeared vastly outmatched in their first year of Pac-12 play, losing games by an average of 27.58 points and posting the worst record (1-11) in school history.
"I'm telling you, this guy can match wits with any white guy out there," McCartney said. "This Embree guy is the real deal. He was doing it the right way."
According to McCartney, to imply Embree didn't know what he was doing when he made changes to his coaching staff — as both athletic director Mike Bohn and DiStefano have done — is to belittle the man's character.
And to do that, McCartney extrapolated, is to take part in some form of racism.
"I made changes (to my coaching staff), and never once did I get accused of not knowing  what I was doing," McCartney said. "They hired me. They trusted me to put the right guys in place. Now it's implied that he (Embree) didn't know what he was doing. That is not fair.
"It didn't happen to me, why should it happen to a black man?"
As for the future of the CU football program, McCartney doesn't expect it to be bright, even if the school is able to pay their next head coach more than the league-low $720,000 per season that was given to Embree.
Why? McCartney, who is now a leader in Denver's Christian community, thinks the way Embree was treated will cause black athletes to hesitate in their commitment to CU or choose to avoid the school altogether.
"They can pay the next guy $2.5 million or whatever. They can say he's gonna work wonders," McCartney said. "But can I tell you something? He's not. Not the way they just treated (Embree). You can't go get the black athlete after you've just completely compromised the integrity of a black coach."