This is an archived article and the information in the article may be outdated. Please look at the time stamp on the story to see when it was last updated.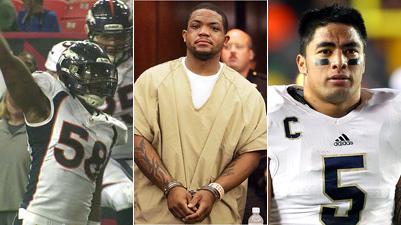 **EDITOR'S NOTE: To vote on who you think the Broncos should draft today in the second round, head to page 3**

DENVER — With the NFL Draft, hindsight is always 20-20. So we put together a story that adds up to that.
Below are 10 of the best and 10 of the worst picks from the drafts put together by the Denver Broncos over the course of the last 10 years. And below that are 10 prospects that the Broncos could select with their 28th pick in the first round, which continues Friday at 4:30 p.m. on ESPN.
The best part? You get to weigh in. First, read the rankings provided by our Will Holden. Next, weigh your 10 options by reading through the short descriptions provided. Finally, scroll back to the top of each section to cast your vote in each of our three rankings.
If you believe we've left a player off one of our three lists, feel free to start a conversation by mentioning that player in the comment section below.
Have fun, and choose wisely.
Best Picks in Past 10 Years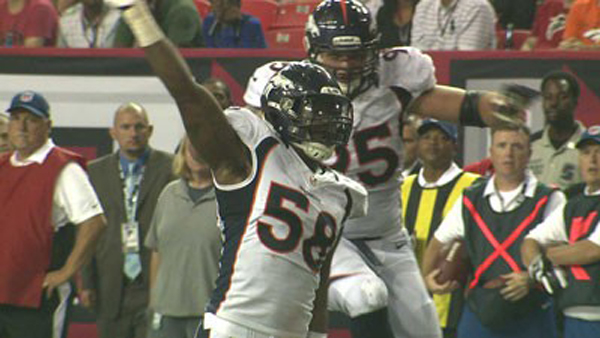 Click >> Rank the 10 Best Picks
Final results, according to 644 participants
1. LB Von Miller: Round 1, pick 2, 2011
2. WR Eric Decker: Round 3, pick 87, 2010
3. WR Demaryius Thomas: Round 1, pick 22, 2010
4. OL Ryan Clady: Round 1, pick 12, 2008
5. DE Elvis Dumervil: Round 4, pick 126, 2006
6. WR Brandon Marshall: Round 4, pick 119, 2006
7. QB Jay Cutler, Round 1, pick 11, 2006
8. OL Chris Myers: Round 6, pick 200, 2005
9. CB Darrent Williams, Round 2, pick 56, 2004
10. LB D.J. Williams: Round 1, pick 17, 2004
1. Von Miller, LB – Round 1, pick 2, 2011
Simply put, Von Miller has played like a No. 2 overall pick should, totaling 30 sacks, 132 tackles and forcing eight fumbles on his way to a pair of Pro Bowls – one for each year he's been in the league.
2. Brandon Marshall, WR – Round 4, pick 119, 2006
You can hate him or love him. But having amassed 612 receptions, 7,755 yards and 45 touchdowns since he was taken with a fourth round pick seven years ago, you have to admit Brandon Marshall has gone from draft afterthought to one of the most dominant receivers the league has seen in the past decade.
3. Ryan Clady, T – Round 1, pick 12, 2008
When you take an offensive tackle this high in the draft, you expect him to be protecting your quarterback's blindside for many, many years. Five years later, Ryan Clady is yet to miss a start and has been named to three Pro Bowls.
4. Elvis Dumervil, DE – Round 4, pick 126, 2006
Elvis Dumervil has suffered through some periodic ineffectiveness and injury issues over the past few seasons. But the fact remains that he, Marshall and Clady are the only three Broncos draft picks in the last 10 years to make more than two Pro Bowls. Not too shabby for a fourth-round draft pick.
5. Chris Myers, OG – Round 6, pick 200, 2005
While the Broncos haven't been able to reap the rewards of this sixth-round gem, the Houston Texans owe them a debt of gratitude. Now a two-time Pro Bowler, Chris Myers has started every game for the Texans at center for the past five years.
6. Jay Cutler, QB – Round 1, pick 11, 2006
Sure, Cutler never led the Broncos to the promised land, but he did become a Pro Bowler in his third and final season with the team. And while he's had his issues both on and off the field in Chicago, he led the team to the NFC Championship in 2010. If that weren't enough, he has also proved masterful at other points in time — battling through injuries and behind a poor offensive line and continuing to post very solid numbers.
7. D.J. Williams, LB – Round 1, pick 17, 2004
Sure, D.J. Williams ultimately ran into his share of off-field issues before being released by the Broncos this offseason. But that wasn't before he played nearly every linebacker position on the field – including some in the 3-4 – over the course of a very productive nine years with the Broncos. In fact, he led the team in tackles in five of those years.
8. Eric Decker, WR – Round 3, pick 87, 2010
Eric Decker is the only Broncos pass catcher who proved he could thrive with one of the league's worst passers as well as one of its best. That he managed to snag 44 receptions for 612 yards and eight touchdowns as a second-year receiver playing with Tim Tebow was impressive. Now that he's had a year of snagging over 80 passes for over 1,000 yards and over 10 touchdowns with Manning, it appears Broncos quarterbacks will have a reliable option out wide for many years to come.
9. Demaryius Thomas, WR – Round 1, pick 22, 2010
There were those who had their doubts about whether Demaryius Thomas was worth a first round draft pick after a par of lackluster seasons. After a year with Peyton Manning, who helped the third-year receiver to a 94-catch, 1,434-yard, 10-touchdown season and his first Pro Bowl, those doubters have become few and far between.
10. Darrent Williams, DB – Round 2, pick 56, 2004
Darrent Williams' untimely passing after the team's final loss of 2006 was one of the greatest tragedies in Broncos history – on and off the field. Williams' nine starts at corner in 2005 were the most for a Broncos rookie in 30 years. Williams followed up that season by starting every game at corner and punt returner in 2006, logging four interceptions and 86 tackles. Williams was clearly blossoming – both as a person and a football player. It made his death all that much harder to swallow.
Click to the next page to see the Worst Picks in the past 10 years.