This is an archived article and the information in the article may be outdated. Please look at the time stamp on the story to see when it was last updated.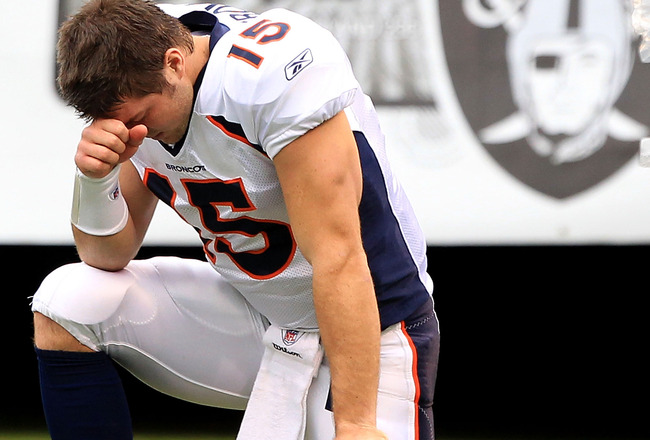 NEW YORK — There's a reason Tim Tebow isn't the starting quarterback for the New York Jets. One of his teammates put it bluntly: "He's terrible."
That was just one of a slew of stinging comments that the ex-Bronco received from his new Jets teammates Wednesday. Almost all of those comments were given anonymously to the New York Daily news.
"We don't look at (Tebow) as a quarterback," one Jets starter told the newspaper. "He's the Wildcat guy."
More than one Jet said they weren't even confident in the team's Wildcat packages with Tebow — the primary objective of which is to run, not pass, the ball.
"We can't win running that (expletive)," one player said.
When asked about Tebow's tenure in Denver, which included leading the Broncos to a division title and a playoff win, one anonymous Jets executive said the team isn't buying those accomplishments as legitimate.
"Now we're depending on miracles?" that individual said. "You can't play that way."
At least one Jet was willing to put his name on the record in support of the Jet's current starting quarterback — the struggling Mark Sanchez — and against Tebow. That would be starting left guard Matt Slauson.
When asked about the idea of using either Tebow or the team's third-string quarterback, Greg McElroy, as an alternative to Sanchez, Slauson wasn't willing to acknowledge that the team had two other options at quarterback.
"We have Greg," Slauson said. "And we have an athlete."
Not being able to win over the moral support of his teammates in lieu of McElroy seems almost as shocking as any of the Jets anonymous or public comments.
Reports were widespread that the philanthropic Tebow was an inspirational leader admired by his teammates in Denver and at the University of Florida, where he was a Heisman winner. McElroy, on the other hand, publicly slammed his Jet teammates a year ago.
Rumors that Tebow might struggle to overtake a third-string quarterback, however, are not new.
A year ago, Broncos head coach John Fox publicly stated that Brady Quinn was heading into the 2011 NFL season as the second-string quarterback ahead of Tebow. Quinn is now backing up struggling Chiefs quarterback Matt Cassel in Kansas City.
There were also rumors that the Broncos might bench Tebow in lieu of Quinn for the team's second playoff game against the New England Patriots. Instead, Tebow started and the Broncos fell 45-10.