This is an archived article and the information in the article may be outdated. Please look at the time stamp on the story to see when it was last updated.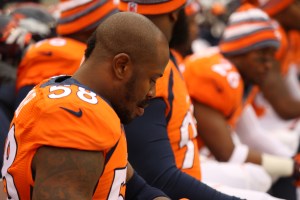 ENGLEWOOD, Colo. — Denver Broncos general manager John Elway struggled to find the words to explain what he called the "lack of fire" he saw in his team's last two playoff exits.
"Two years in a row, it didn't feel like we went out kicking and screaming," Elway said during his postseason press conference on Tuesday.
That seemed to one big reason why the Broncos and former head coach John Fox came to the mutual decision to part ways one day earlier. The fact that it was "good timing" for the two parties to go their separate ways also had something to do with it, Elway said, and the notion of timing was a key point that reverberated throughout the press conference.
When it comes to replacing Fox, Elway said the Broncos not only don't have a timetable for finding a new head coach but said the team had yet to reach out to any candidates as of noon Tuesday.
"The last thing I ever want to do is lie to you people," Elways said in a rare moment of levity. "So I can be dead honest to you when I say no, we have not talked to anybody yet. We'll get that started right when we get done here."
When the Broncos do start the process of looking for a head coach, Elway said quarterback Peyton Manning will be involved. As to whether Manning will be a weapon at the new head coach's disposal, Elway said retirement is not something he has discussed yet with the 17-year veteran.
"I had a great conversation with Peyton yesterday, and I said the last thing we're going to talk about, having been through what you've been through is your future," Elway said. "He needs to get away. In four or five weeks, we'll get back together and see where he is."
Having been in Manning's shoes as an aging quarterback, Elway was asked to assess how much his quarterback's quad injury, suffered during a Dec. 14 win over the San Diego Charges, affected the future hall of famer down the stretch.
Laughing that he heard at one point that Manning "had two torn quads," Elway said the injury was indeed just a strain and not a tear, but that he had no way of knowing just how much it affected Manning or if it would weigh into his decision on whether to come back next season.
"Only Peyton knows how his body feels, and when he goes through his decision, that'll be a part of it," Elway said. "When I made the decision to retire, it was the right time to go. But Peyton is going to have to make that decision."
There has been speculation that Manning might be more compelled to come back if there were some measure of continuity in terms of the coaching staff. And Elway did mention that both Adam Gase and Jack Del Rio, the team's respective offensive and defensive coordinators, would be candidates for the team's head coaching vacancy.
Gase and Del Rio are also said exploring head coaching vacancies elsewhere, with Gase having reportedly interviewed for jobs with the San Francisco 49ers, Chicago Bears and Atlanta Falcons, and Del having reportedly been given a second interview with the Oakland Raiders.
Elway made an effort to squash several points of speculation regarding the team's coaching staff as a whole — the first being that the entire staff had been released along with Fox on Monday.
"All our assistant coaches are still under contract," Elway said. "They have not been released, but we are allowing them to look elsewhere."
Elway also dismissed the idea that Gase and Del Rio may have been ill-prepared for the team's playoff game due to their explorations into head coaching positions with other teams.
"Anytime you're successful, people are going to want to interview your coaches," Elway said. "By no means do I think Adam Gase's or Jack Del Rio's minds were somewhere else. Obviously those (interviews) are great opportunities for them. They've earned them. I don't think it affected them. They're professional guys."
The notion of professionalism as it applied to the working relationship between Fox and Elway was also brought up several times, especially in regard to reports that it had been deteriorating of late.
Though Elway was adamant that he and Fox had a great deal of respect for one another, he didn't sugarcoat the fact that the two didn't always see eye-to-eye.
"I think in any relationship, be it player-coach or coach-GM, you're always going to have bumpy patches," Elway said. "I think the main thing between John and I was that we disagreed on how to get to the next level."
So what exactly do the Broncos need to get to that next level — that level being a Super Bowl Championship? For Elway, the concept of passion continued to come up on Tuesday, especially when talking about why he thought the Broncos fell short in the 24-13 loss to the Indianapolis Colts on Sunday.
"It's disappointing that we didn't have more fire (against the Colts)," Elway said. "I don't know why we didn't. It's always difficult coming into the playoffs off a bye week, but I don't have that answer. All I know is you can't have a bad game in the playoffs."
As his press conference drew to a close, Elway was asked to hearken back to the line he famously — or perhaps infamously — uttered at the press conference announcing the signing of Peyton Manning: that the team "had no Plan B."
Well, Elway, said, "There still is no Plan B."
"Plan A is still the same," Elway continued. "That's to win a championship. We're going to continue to try to accomplish that.