This is an archived article and the information in the article may be outdated. Please look at the time stamp on the story to see when it was last updated.
ENGLEWOOD, Colo. — Denver Broncos fans will have 13 chances to watch the players practice, get autographs and just see the team prepare for the regular season during the 2018 training camp at the team's training facility in Dove Valley.
Each practice is free to attend.
2018 training camp dates:
July 28
July 29
July 30
July 31
August 1
August 3 (Kids Day)
August 4
August 5
August 7
August 8
August 9
August 14 (Joint practice with the Chicago Bears)
August 15 (Joint practice with the Chicago Bears)
Kids Day is Friday, August 3 and the team's youngest fans will be invited to celebrate Miles the mascot's birthday. The first 1,000 children at practice will get Broncos-branded umbrella hats. Mascots from other local teams will also be in attendance and we hear there will be other fun activities for kids including face-painting.
The joint practices with the Bears take place after the Broncos' preseason opener against the Minnesota Vikings August 11 in Denver. The Broncos and Bears will play a preseason game on August 18 at Broncos Stadium.
See the team practice in person and then watch full Broncos training camp coverage with FOX31 Sports Director Nick Griffith and our sports team.
Parking and practice times
Parking is limited at the practice facility at 13403 Broncos Parkway. The parking area will open at 7 a.m. Gates will open at 8 a.m.
All practices are scheduled from 9:30 a.m. to noon.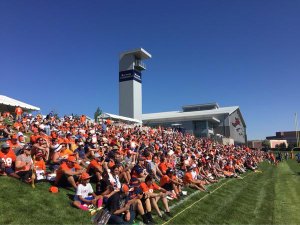 Fans are primarily seated along a grass berm on the west end of the practice fields and seating is first come, first served.  Here's an important tip: There is a very limited amount of shade. Take your sunscreen and hats to practice.
In case of lightning or inclement weather, fans will be cleared out of the general seating area allowing for sufficient time to reach their vehicles.
Public restrooms are available for fans near the entrance to the practice fields.
Bag policy
The same bag policy at Broncos Stadium on game days will be in effect at all training camp sessions.
Each fan can carry one clear bag that is no larger than 12 inches by 6 inches by 12 inches or a one-gallon clear plastic freezer bag, as well as a small clutch bag or purse approximately the size of a hand.
Bags are subject to search.
Prohibited items include umbrellas; alcohol; food; glass containers (soft plastic Nalgene water bottles are OK); metal containers such as thermoses, coffee tumblers, mugs and metal sunscreen spray bottles; video cameras; long-lens cameras; iPads; lawn chairs; strollers (outside parking for strollers is available on a first-come, first-serve basis); coolers; selfie sticks; full-size helmets; and pets.
Cellphones must be turned off or put on silent mode. Fans can use still cameras, but video cameras and the recording/livestreaming of video on other devices such as cellphones and tablets is not permitted.
Food Trucks
For the second year in a row, food trucks will be located on the west side of the Pat Bowlen Fieldhouse. Meals brought from food trucks will not be allowed inside the practice field gates.
Player autographs
After each open practice, fans will have the opportunity to get autographs from players at the west end of the practice fields. Players will be designated by position groups (WRs, DLs, DBs, etc.) to sign autographs.
School supply drive
Fans can enter to win a football signed by one of the Broncos by donating $5 or one of the following items to the Stuff for Students School Supply Drive:
Backpacks (for all ages)
Three-ring binders
Spiral notebooks
Packs of colored markers
24-count box of Crayons
Monetary donations (checks, credit cards and cash donations accepted)
RELATED: Photos of Denver Broncos new, improved training facility
RELATED: See the Broncos 2018 regular season schedule