This is an archived article and the information in the article may be outdated. Please look at the time stamp on the story to see when it was last updated.
DENVER -- The city of Denver will celebrate the Broncos' Super Bowl 50 win on Tuesday. All events are free.
FOX31 Denver will have live coverage on TV and on KDVR.com starting with "Good Day Colorado" at 5 a.m., followed by Everyday at 10 a.m., and special parade coverage from 11 a.m. to 3 p.m.
At 10 a.m., entertainment begins at Civic Center Park. There will be music from Funkiphino, 3OH!3, Big Head Todd and The Monsters.
At noon, the parade kicks off at 17th and Wynkoop streets.
At 1 p.m., a rally begins at Civic Center Park.
Attendees are asked NOT to bring the following:
Folding chairs/seating devices
Backpacks and large bags
Alcohol
Marijuana
More details on the Denver city website.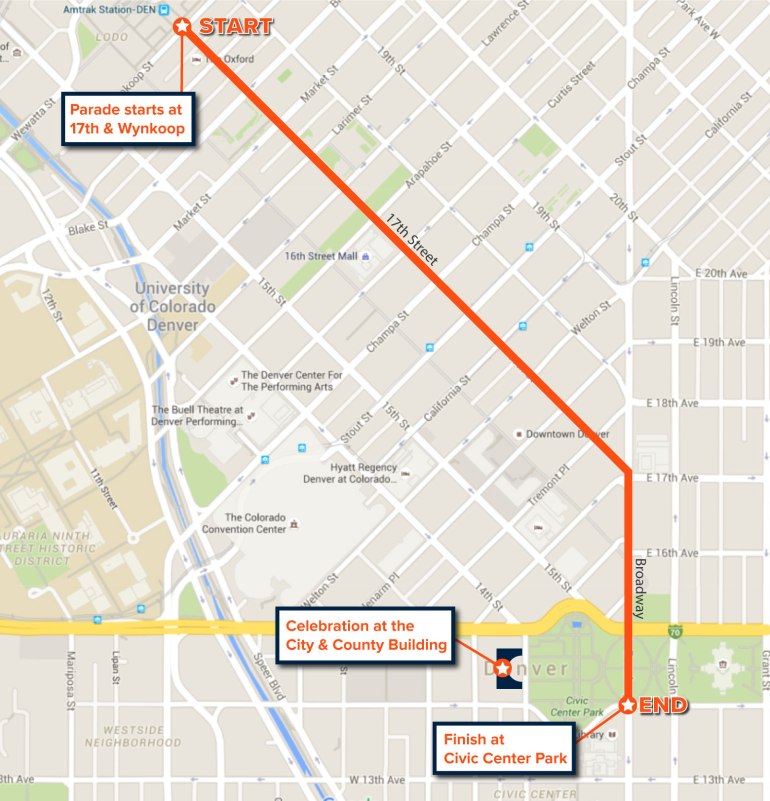 On Monday, city crews were busy painting an orange and blue strip down the parade route.
City of Denver marks part of Broncos Super Bowl Victory Parade route tomorrow with orange and blue stripes. pic.twitter.com/vh1UIbuNXT

— Tammy Vigil (@TammyVigilCO) February 8, 2016
City officials were also busy preparing Monday for security during the parade.
RTD detours and road closures
Bus Routes affected:  0, 1/1W, 6, 8, 9, 10, 15, 15L, 16, 16L, 20, 28/28B, 32, 38, 44, 48, 52, 83D/83L, 16th Street Mall Shuttle.
All of these bus routes will begin detouring upon request by the Denver Police Department around the parade route to get passengers as close as possible to the normal routing.
Light rail routes/lines affected: D, F, H
All F, H and D line service will end at the Convention Center. All downtown stations will be closed upon request by Denver police as crowds and safety issues dictate. A train shuttle will run between 30th/Downing to 20th/Welton. All C and E line service will run a regular schedule to and from Union Station.
Officials anticipate detours will begin by 9 a.m. with the earliest detours to begin in the area of Civic Center Park and expanding to the areas around the parade route.
Because Civic Center Station is along the parade route, the station will be closing in the morning as crowds and safety dictate.  The 16th Street Mall Ride service will also be suspended at some point, officials said, depending on the crowds and safety guidelines.
RTD will be operating on a normal weekday schedule until the detours take effect once police close streets and intersections, and will resume normal routing and schedules as streets reopen.