This is an archived article and the information in the article may be outdated. Please look at the time stamp on the story to see when it was last updated.
ENGLEWOOD, Colo. — The Denver Broncos went all offense with their final four picks of the 2017 NFL Draft on Saturday.
The day started with the trade of running back Kapri Bibbs to San Francisco for future draft picks and continued when they traded out of the fourth round on a deal with the Browns, which, essentially, allowed them to make two picks in the fifth round.
With the 145th pick, the Broncos drafted for need, taking tight end Jake Butt from Michigan. A 6-foot-6, 247-pounder, Butt has room to grow coming off a senior season when he had 546 receiving yards and four touchdowns before tearing an ACL in the Orange Bowl against Florida State.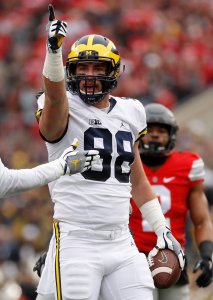 As a result, Butt didn't go to the NFL Scouting Combine and wasn't available to work out for any teams.
Twenty-seven picks later, the Broncos tabbed Isiah McKenzie, a 5-foot-8, 173-pound speedster out of Georgia.
Described as a raw receiving talent, he's thought to have far more upside in the return game.
Three of the players the Broncos drafted this weekend are kick returners, an area where Denver suffered mightily last year.
The sixth round finally saw the Broncos go for a running back, taking DeAngelo Henderson, a 5-foot-8, 208-pound "bowling ball' with good receiving skills out of the backfield.
Been a @Broncos fan since I was born…I think Elway got great value with Jake Butt and Chad Kelly…Solid picks

— Joel Klatt (@joelklatt) April 30, 2017
The Broncos' last pick was also the last choice of the draft, making Mississippi quarterback Chad Kelly this year's Mr. Irrelevant.
Kelly, a native of Buffalo, N.Y., is the nephew of Hall of Famer Jim Kelly.
He started his career at Clemson, but has been plagued by off-the-field incidents and on-the-field injuries.
With substantial concerns about his maturity, or the lack thereof, Broncos general manager John Elway called Jim Kelly to vet his nephew before picking him.
Kelly does have a big arm and plenty of talent. The Broncos already have a seventh-round quarterback pick on the roster, Trevor Siemian.