This is an archived article and the information in the article may be outdated. Please look at the time stamp on the story to see when it was last updated.
DENVER– The Denver Broncos will battle it out with the Kansas City Chiefs at Empower Field at Mile High on Thursday Night. The game will be televised on FOX31.
Game day Pinpoint Weather Forecast
Dry, partly cloudy with a cold front arriving late, causing temperatures to cool quickly late in the game.  Temperatures start at 70 degrees, then fall into the 60s and eventually the 50s.
Tickets
There are still some tickets available at Ticketmaster for the game. Ticket prices ranged from $90 and up on Wednesday morning.
Here are some ticket tips from the Broncos:
Download the latest version of the Broncos365 App (enable automatic updates)
Add tickets and parking permits to a mobile wallet before heading to the stadium
If tickets are obtained via transfer, make sure tickets are accepted before arriving to the stadium (rotating barcodes prevent screenshot transfers)
If using a mobile browser, login to view your tickets and familiarize yourself with the process before walking up to stadium gates
The Broncos deploy three mobile ticket assistance tents outside of Gates 2, 7 and 10 and have two dedicated mobile ticket representatives located inside each gate to assist with questions at each general admission gate.
Parking & Transportation
Lots will open at 2 p.m. prior to the Thursday night game against the Chiefs. Lot C will open at 12 p.m. Parking ranges from $15-$30.
See full parking information here.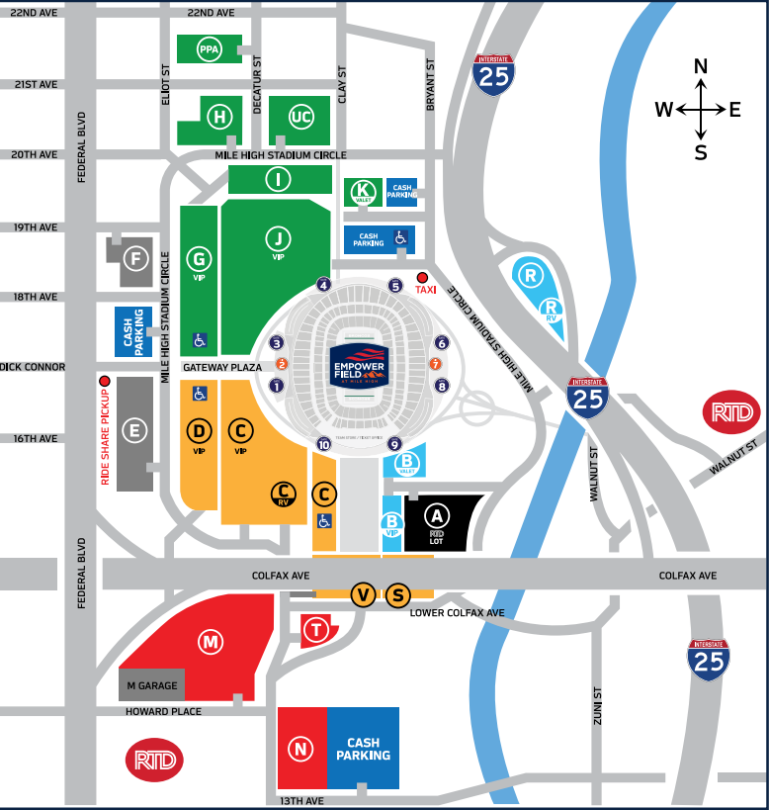 National Anthem
The National Anthem will be performed by Nathaniel Rateliff & the Night Sweats. It will be capped by a flyover from the 104th Fighter Squadron.
Kickoff
Kickoff is scheduled for 6:20 p.m. The Broncos suggest that fans head to the gates at least 60 minutes before kickoff to be ready for the pregame entertainment that starts at 6 p.m.
FOX31 Coverage
We will have live team coverage from Empower Field at Mile High starting at 4:30 a.m. Thursday. We will continue our coverage at 5 p.m. and after the game.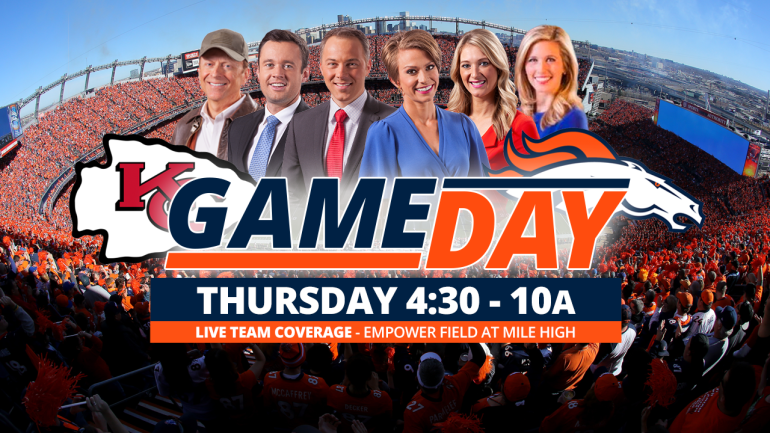 Fan Pride Photo Gallery
GO BRONCOS!

Beat the chiefs

Celina for broncos

Big game! We can do this!💯

My daughter, Shy, turned 11 last week, so we celebrated with the Broncos!

Diesel with his Bronco pillow

Bronco Bulldogs!

Mateo says beat the chiefs

Go Broncos beat the chiefs

BRONCOS BABY!!!

Let's Go Broncos!

💙🧡🐎

Our sweet dog, Leo, is pumped for the first official Broncos game of the season!

Training Camp Fun!! 🧡💙🐎

Broncos

Go Broncos 💙🧡

Quincy and Odin Grinde getting ready for the game!!!!

Go Broncos 🧡🏈💙

Brandi Aragon and John Mikkelsen

My wife and I at SuperBowl 50 :)

My daughter in JDBC program

The Jester's tailgate party

6 years old

Bronco fans with raider fans

Jester and Alan

We're ready for some football!

Wearing orange today for a big win

The best Broncos orange sunset ever!! 🧡💙🧡💙

Go Broncos

We ready! Go Broncos!

Go BRONCOS

Group photo

Mile High Broncos orange sunset 🧡💙🧡💙

Broncos Game

Group photo

One of the best days of my life! Got to meet the great Steve Atwater!

Go Broncos! Let's bring the Thunder!

Celebrating Super Bowl 50!

Denver Broncos!!!

Just enjoying a hot day in Broncos country.

Game Day

6 month old James and Dakoda Watson

Go Broncos!

My babies in their broncos gear!

Kynli is ready for MNF!

My three amazing kiddos showing off their broncos love!

Ben VanFossen and Saira Henry, cousins and DIE HARD Bronco fans!

I've got some big Broncos fans on my hands 💙🧡

Denver Broncos Fans!

Denver Broncos Fans!

Denver Broncos Fans!

Denver Broncos Fans!

Denver Broncos Fans!!

Denver Broncos Fans!!

Broncos

Denver Broncos fans outside of Broncos Stadium