This is an archived article and the information in the article may be outdated. Please look at the time stamp on the story to see when it was last updated.
DENVER — Every single member of the Denver Broncos stood for the national anthem on Sunday, just like the team previously announced they would.
Today's national anthem pic.twitter.com/jf3IrJsCy4

— Dave Althouse (@davealthouse) October 1, 2017
The team announced their plans for the national anthem on Thursday, a week after 32 Broncos players knelt for the national anthem to protest social injustice before the game against the Buffalo Bills.
Broncos linebacker Brandon Marshall stood and raised his left fist in the air, like he did before the Buffalo game. Marshall knelt for several games last season and was among those on the team who took a knee last week.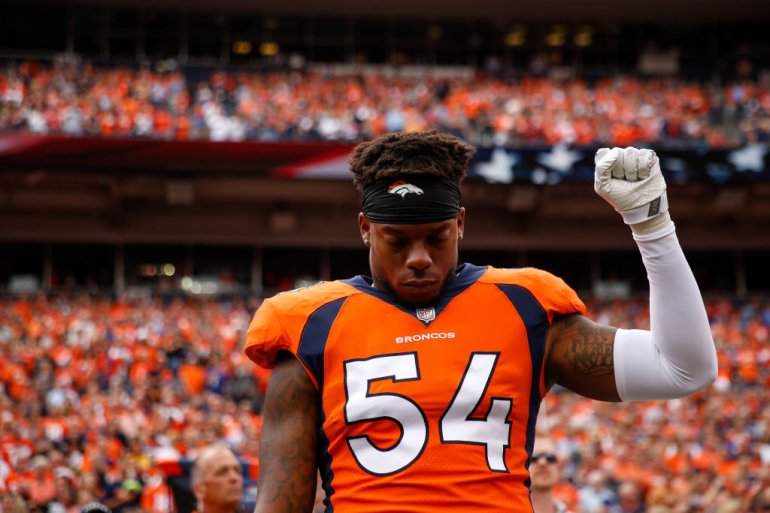 On the Raiders sideline, every player stood for the anthem – except for Marshawn Lynch. Lynch arrived in Denver wearing an "Everybody vs. Trump" shirt and sat for the anthem before the game.
"We're a team and we stand together – no matter how diverse some comments and issues can be, nothing should ever get in the way of that," the Broncos said in a statement on Thursday. "Starting Sunday, we'll be standing together."
A message from our players: pic.twitter.com/eQs3z7OcqV

— Denver Broncos (@Broncos) September 28, 2017
The team says their actions last week were not a protest of the military.
"Make no mistake – our actions were in no way a protest of the military, the flag, or those who keep us safe," the team said. "We have nothing but the deepest love and respect for those who protect our way of life and the freedoms we enjoy as Americans."
"While there's no greater country, it's not perfect. Inequalities still exist, and we have work to do in all forms of social justice. We can all do better."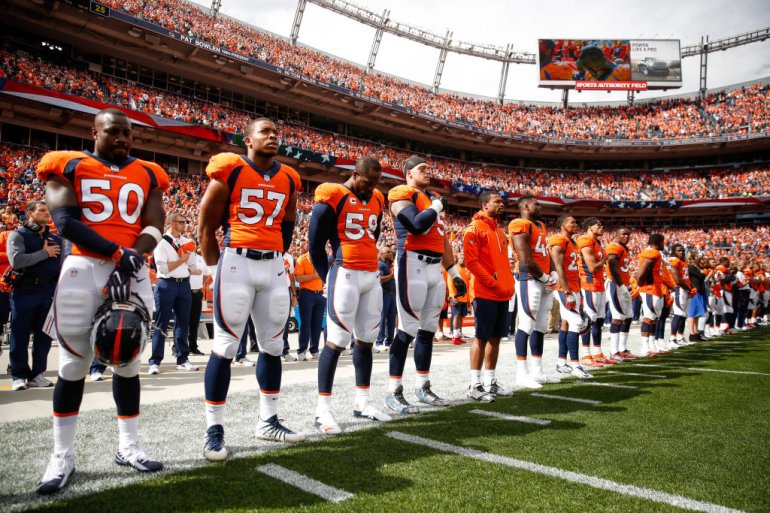 RELATED: Broncos' Derek Wolfe says he stood for anthem for 'the men who died in real battle'
Hundreds of players across the NFL joined in on the protest after President Trump criticized some in the NFL at a rally in Alabama, saying team owners should fire players for taking a knee during the national anthem.
Trump said owners should respond to the players by saying, "Get that son of a b**** off the field right now, he's fired. He's fired."
Trump has since double downed on the claims on Twitter.
The move left Broncos fans and NFL fans across the country divided. While some were supportive of the team's decisions others were not – some even burned their gear.