This is an archived article and the information in the article may be outdated. Please look at the time stamp on the story to see when it was last updated.
ENGLEWOOD, Colo. — Training camp for the Broncos opens Friday to the delight of NFL fans everywhere. Who will make the team and who won't? Here's a look at 10 training camp storylines.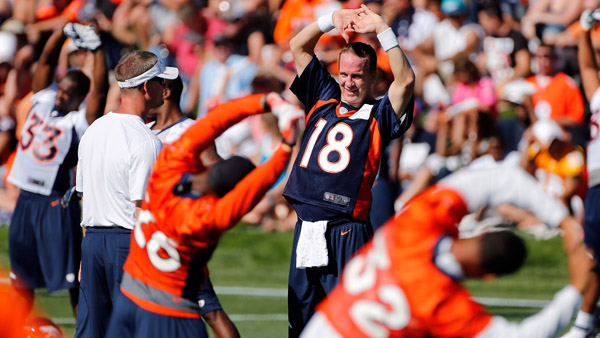 1. Offensive line
This team will have four new starters protecting Peyton Manning. Right guard Louis Vasquez is the only sure thing. The left side could be the biggest concern with a rookie at tackle and a former defensive tackle making the switch to offensive guard. It will be interesting to see how Ty Sambrailo and Ben Garland handle the pressure of being slotted into the starting role heading into camp and if they can keep come Week 1.
2. Peyton Manning's New Role
Number 18 has a new offensive scheme. Gone are the days of Manning in shotgun. More emphasis will be on the run game and Manning will be under center now. There's no question Manning is one of the best in the business and he's saying he has no problem with the new system. Gary Kubiak and John Elway say it's a good thing for the 39-year-old and he's still going to have a major impact. It will be interesting to see the adjustments made and we'll really get a good sense of how it's working in the preseason.
3. Defensive line
Derek Wolfe will be at training camp and play in preseason games, but the defensive end is suspended for the first four games for violating the NFL's performance-enhancing drug policy.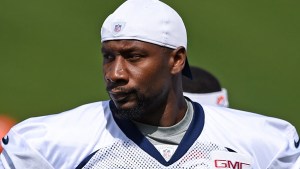 New Bronco and veteran Antonio Smith is still under investigation on a complaint of sexual child abuse, but no charges have been filed. The team says the 33-year-old will be at the start of camp.
"Antonio Smith, that situation hasn't changed," Elway said. "That's why Antonio's here and will practice, and we'll just deal with that as things come about."
Sylvester Williams and Malik Jackson are slotted in as the starters on the line. Smith should fill in for Wolfe, but the team also has Vance Walker who has a shot to take that spot. The Broncos also have Kenny Anunike, who's in his second year and the Broncos have been very high on him so there could be a great competition on our hands.
4. The concern at inside linebacker
The hope is Danny Trevathan and Brandon Marshall are ready for Week 1. The big issue here is, what if they are not? Trevathan fractured his kneecap twice last year and Marshall is coming off a torn Lisfranc in his right foot. Both aren't on the PUP list, which is great news, but once they are allowed to get into the grind, you never know. That puts the pressure on their backups. We'll keep an eye on Todd Davis, Steven Johnson and Lamin Barrow who should be the next men up.
5. The new-look tight ends
Julius Thomas is gone. In comes veteran Owen Daniels who played under Kubiak before. Virgil Green gets a bigger role with the team, but we found out he dealt with a hamstring injury during OTAs, so they will ease him into camp. Run blocking will be big for the tight ends and they are built well for the system. Fans will miss the touchdowns Thomas brought, but Daniels should still rack them up. We shall see.
RELATED: Schedule and tips for attending training camp
6. Wade's World
The defense is going from the 4-3 to the 3-4. The defense didn't really win many games in 2014 for the Broncos with game changing turnovers and sacks, but they believe the adjustment from Jack Del Rio's system to the system Wade Phillips brings will take them to the next level. He's one of the best in the business and he has a lot of weapons from Von to Ware to Harris to Talib to Ward. They will be aggressive and should bring a new energy to the team.
7. Special teams as a whole
Will the Broncos keep two kickers? Is Britton Colquitt's job safe? Who's kick returning? Who's punt returning? Lots of battles to keep an eye on.
8. Ray's potential
Shane Ray dropped in the draft and the Broncos traded up to get him. After off-the-field issues, the outside linebacker got healthy and is 100 percent and ready to go. It will be interesting to see if he can become an instant contributor wreaking havoc on opposing quarterbacks with Miller and Ware or will it take some time.
9. C.J. vs. Montee:
C.J. Anderson had a phenomenal finish to the 2014 season. There's no question he deserves to start camp as the starting running back. But Montee Ball wants his starting job back. A couple of C.J. slip-ups could make that happen. Either way, it should be a fun competition to watch.
10. Big camp for Brock:
Brock Osweiler enters another training camp as the backup to Manning. Kubiak says he'll get more reps this year as they try to give Manning more rest. It's a contract year for the fourth year quarterback. Is he the quarterback of the future or will Denver move in a different direction after 2015?